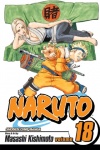 On the eve of the release of the second three-pronged barrage of Naruto volumes it appears that the first wave of Naruto titles has fared well during its first four weeks in the market. Naruto Vols. 16, 17, and 18 have remained in the top three spots on the BookScan list of graphic novel sold in bookstores for all four weeks that they have been in full release. Though it is difficult to compare sales totals exactly it appears that Volume 18 in the series has sold almost exactly the number of copies that Volume 15 (which was released by itself in July), while Volumes 16 and 17 have sold approximately 84% and 88% of Volume 15's total respectively. Viz Media's plan to release 12 volumes of Naruto in four months is calculated to synch the Naruto manga in the U.S. with releases in Japan (see 'Naruto Goes Nuclear').
The newly released trio of Naruto manga did not represent the only appearances of the ninja trainee in the BookScan chart for the week ending on September 23rd. Naruto Anime Profiles, which was also released in September, was in the number six spot, while Naruto Vol. 1 was at number 8 (indicating that plenty of new readers are still joining the Naruto bandwagon), and Naruto Vol.15 ended up in the ninth position.
Two of the other four spots in the top ten went to Tokyopop's Fruits Basket with the Fruits Basket Fan Book at number four followed by Fruits Basket Vol.17 in the fifth spot. Del Rey's Negima Vol. 15 was at number seven, and Viz Media's Bleach Vol. 20 at number 10.
Viz Media's Death Note remains a potent property as evidenced by the fact the first Death Note volume ended up at number 11 demonstrating that a number of new fans are being attracted to the series, and retailers should expect interest in the series to grow when the Death Note anime debuts on the Cartoon Network on October 20th (see 'Death Note on Adult Swim').
Manga again dominated the BookScan list taking 43 out of the top 50 spots. Comic strip collections made an impact on the list this week with Lynn Johnston's Seniors Discount leading the way at #14. Alan Moore's Watchmen (from DC) remains hot, finishing the week at #19 followed by Marvel's Anita Blake Vampire Hunter at #22, Darby Conley's Get Fuzzy collection I'm Ready for My Movie Contract at #26, Mike Mignola and Christopher Golden's illustrated novel Baltimore (from Bantam/Spectra) at #34.