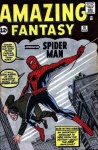 In a ComicLink auction that closed last Friday, a near mint copy of Amazing Fantasy #15, the issue that introduced Spider-Man, sold for $227,000, the highest price ever paid for a Silver Age comic book at a public auction. The independent third party grading service, Certified Guaranty Company, gave the comic, which was from the White Mountain collection, a 9.4 near mint rating, which is exceedingly rare for this issue.
In June, in the wake of the release of Spider-Man 3, another 9.4 rated copy of Amazing Fantasy #15 became the first Silver Age comic to break the $200,000 barrier when it sold for $210,000. There are only seven known issues of Amazing Fantasy #15 that have been graded at 9.4.
The astronomical prices paid for the first appearance of Spider-Man have been driven by the popularity of the character, which has been fueled by the series of movies based on the exploits of everyone's favorite wallcrawler.
And Spidey is not the only superhero whose back issue sales have benefited from big screen exposure. After the release of Fantastic Four: Rise of the Silver Surfer this summer, ComicLink sold an 8.5 rated Fantastic Four #1 for $52,000, a record price for the issue in that condition, and a number of the highest-rated Batman comics from 1940-1941 are scheduled to be auction off in July of 2008 after the debut of the new film starring the Dark Knight.