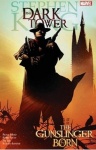 For the first time in a very long while, a non-manga graphic novel that is not based on a popular movie has topped the BookScan chart of graphic novels sold in bookstores for the week ending December 2nd. Marvel's hardcover graphic novel adaptation of Stephen King's Dark Tower, which has been perched in the top ten since its release took over the number one ranking as Tokyopop's Fruits Basket relinquished its two-week-long hold on the top spot. Despite topping the list, the $25 Dark Tower lost its position as the top dollar book on the BookScan chart to the Running Press's massive two-volume Mad's Greatest Artists: The Completely Mad Don Martin, which came in at #24 in terms of units, but took the top dollar spot thanks to its $150 cover price.
Non-manga titles did exceptionally well during this prime holiday shopping week. DC Comics' Heroes, which is based on the popular TV series, finished at #3, while Alan Moore's League of Extraordinary Gentlemen: Black Dossier (published by DC's Wildstorm) ended up at #6 and Dark Horse's Buffy the Vampire Slayer Season 8 landed at #11. DK Publishing's Marvel Encyclopedia finished at #15 and Alan Moore's perennial Watchmen (which will sell around 95K in all markets this year -- see 'Watchmen to Sell 95K') ended up at #22, which means that there were seven non-manga graphic novels in the top 25, the most we can remember in a long time.
Along with Fruits Basket, six volumes of Naruto represented manga in the top ten. Despite having only 18 out of the top 25 titles, manga still took 42 of the top 50 spots. Naruto Vol. 1 re-established its superiority over Death Note Vol. 1, but just barely as both titles remained very strong (at #20 and #21 respectively). Digital Manga's manga adaptation of Hideyuki Kikuthe chi's Vampire Hunter D novels soared to #30 in its first week of release, while the ninth volume in actual Vampire Hunter D novel series (published by Dark Horse) ended up at #45. One of the most popular OEL manga titles, Svetlana Chmakova's Dramacon Vol. 3 (published by Tokyopop) debuted at #42.