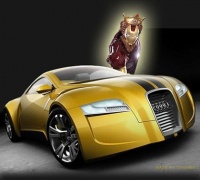 Marvel Entertainment and its distribution partner Paramount have finalized four major promotional deals for the Jon Favreau-helmed Iron Man movie, which debuts on May 2nd, 2008. Burger King will spotlight the movie with an in-store promotional campaign along with a nationwide TV spot directed by Favreau. LG Mobile, which is participating in its first major movie promotion, also plans a nationwide campaign that will include TV and print ads as well as online activation.
The massive 7-Eleven C-store chain will engage in an in-store campaign in over 6,000 outlets that will include Iron Man Slurpee cups and point-of-sale signage plus online and radio ad support. Audi's hot new R8 sports car will be seen at various times throughout the movie. According to Variety: 'Audi will likely pony up tens of millions of dollars to help promote the film worldwide upon its release'--and the filmmakers picked Audi in large part because elements of the sleek R8's design 'closely resemble Iron Man's superhero garb.'
Altogether, according to Brandweek, Iron Man's four promotional partners are expected to spend 'upwards of $50 million in traditional and alternative media' promoting the film.