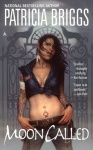 Dabel Brothers Publishing has signed bestselling paranormal fantasy writer Patricia Briggs to produce a new original comic series featuring her character Mercedes 'Mercy' Thompson. The four-shot miniseries will be released in the second half of 2008, with a hardcover collection from Del Rey to follow in 2009.
The Mercedes Thompson series began in 2006 and currently consists of three novels. The comic will be a prequel to the comics titled Mercedes Thompson: Homecoming.
Briggs joins three other properties already announced, from Dean Koontz (see 'Dabels Do Koontz'), Jim Butcher (see 'Dabels Do Dresden Files'), and George R.R. Martin (see 'Dabels Launch Wild Cards').