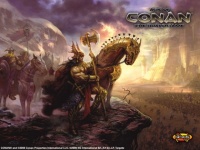 Fantasy Flight Games will publish the English language version of Nexus Editrice's Age of Conan -- The Strategy Board Game early next summer as part of a simultaneous world release. The game was previewed at Essen last fall (see 'Nexus Editrice to Preview Age of Conan'). The big box board game is for two to four players.
The game mechanic was inspired by War of the Ring, which was designed by the same team, but it has gone through considerable change during development. According to Nexus Editrice, 'The core mechanic is still based on a modified Action dice system, adapted to work with a single pool of Fate dice available to all players.' A new campaign system was introduced in the game, which requires players to win a series of linked battles to militarily subjugate an independent kingdom.
Cover art is by J.P. Targate; graphic design is by Fabio Maiorana (Wings of War).