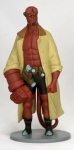 Dark Horse Comics is preparing a June launch for a new set of Hellboy PVCs, Hellboy T-Shirts and a Hellboy Coffee Mug. Together with an ambitious publishing program that includes a novelization of the new film, Hellboy II: The Art of the Movie, Hellboy: The Companion, and Hellboy II: Monsters, all of which are scheduled for May or June release, these items represent a concerted effort to take full advantage of the July 11th release of Guillermo del Toro's Hellboy II: The Golden Army.
The box set of Hellboy PVC Figures (MSRP $14.99) includes Hellboy, Abe Sapien, and Lobster Johnson. The box set is available by itself and packaged with a new edition of the graphic novel that started it all, Seed of Destruction, the first Hellboy graphic novel. The new hardcover edition is being printed in a 7.5' x 5' format, features a new cover by Hellboy creator Mike Mignola, and comes packaged with the PVCs in a sturdy double-sided window box casing. The book/PVC combo is priced at $24.99. All Dark Horse PVC figures are composed of non-phthalate plastic and are safety tested to international standards.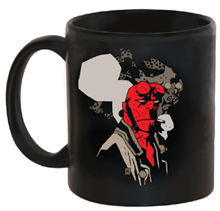 Additional merchandise that will be available in time for the release of Hellboy II movie will include a new series of Hellboy T-Shirts featuring Mike Mignola art and a new Hellboy Coffee Mug featuring a brand new Mignola design in full color.