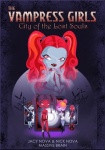 Vampress Girls, the first graphic novel in what's envisioned as a new line of graphic novels from Kensington Publishing, was launched in late April with the first volume of a multi-volume series. Kensington signed for three Vampress Girls graphic novel volumes to be written by Jacy Nova and Nick Nova, with releases two times a year. After the April release, the next volume, #2, which takes place on Halloween, will be released in late September, with the third volume slated for late February 2009.
The storyline concerns vampires, witches, and demons, who compete through the ages, masquerading among normal humans as artists, musicians, actors, or writers. The Vampress Girls are high school-attending vampires who play in their band, the Vampress Girls, at night, leading to the high concept description of the series as Buffy the Vampire Slayer meets Cheetah Girls. Unlike most vampires, though, the Vampress Girls can live off the energy from their music instead of needing fresh blood to survive.
A soundtrack is also planned, with music by Boris Bouma, that will associate different sounds with the different groups of battling supernatural beings.
The first volume is being sold by Barnes and Noble, Borders, Amazon, Sam Goody, FYE, Chapters in Canada. Diamond Comic Distributors offered it as a June shipping title. It's also being sold internationally in Australia, New Zealand, UK, Belgium, Germany, Italy, Spain, Hong Kong, and Japan.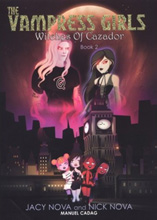 Demographics of readers are reported to be about 60% female, 40% male, the standard manga mix.

Marketing support will include mobile wallpapers and ringtones and Web and mobile storefronts, launching in July; a Facebook and MySpace widget; and a promotional tour this fall. Videogame and media rights for the property are being marketed.

The look of the Vampress Girls books and the characters were developed by the Massive Brain studio, which also designed the covers and did the art for Book 1. Manuel Cadag picked up the art chores with Book 2.