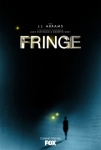 USA Today is reporting that DC Comics will produce a comic book series based on J.J. Abrams' X-Files-like TV series Fringe. Although no writers or artists have been announced DC reportedly plans to publish the first issue of the Fringe comic book on August 27th, two weeks before the series debuts with a special 2-hour episode on September 9th on the Fox Network.
Abrams, who created the highly successful serial drama Lost, plans to make the Fringe series more in the mold of The X-Files with each episode as a self-contained story, though there may be overriding themes as there were in Chris Carter's long-running X-Files (see "Fox Looking to Scare Up 'Fringe' Benefits"). Fringe is Abrams' fourth TV series (Felicity, Alias, Lost are the others) and reunites him with writer/producers Roberto Orci and Alex Kurtzman (Alias, Mission Impossible 3, Star Trek).
Comic book publishers failed to capitalize on the success of Lost, which has developed a devoted following, so it makes perfect sense that DC would attempt to get on the Fringe bandwagon from the very beginning (particularly since Fringe is being produced by fellow Time/Warner company Warner Bros. in conjunction with Abrams' Bad Robot). Along with the previously announced comic book adaptation of the Prototype video game (see "DC to Publish Comic Based on Prototype Game") and the one-shot comic based on the new X-Files movie, the announcement of the Fringe comic indicates that DC is becoming more aggressive in licensing properties outside the DC Universe.