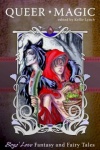 In a posting on the company Website Kellie Lynch, the editor of BL (boys' love, yaoi) publisher Iris Print, has announced that "Iris Print is shutting down." Iris Print's final publication, Queer Magic, has been delayed, but it will be released in July.
The demise of Iris Print resulted from lower sales caused by the glutted manga market where the number of new releases has overwhelmed any growth in sales. Nowhere has this over abundance been more obvious than in the BL or yaoi category. Though retailers interviewed by ICv2 report that yaoi titles continue to sell, the sales increases have been modest and insufficient to match the huge increase in the number of yaoi/BL releases.
The gravitation of sales to the top tier of titles has created problems throughout the American manga market—and it's the mid-to-low range titles that have been affected the most. Tokyopop's recent decision to cut back drastically on its releases (see "Tokyopop Splits into Two Companies") is hardly the only move by U.S. manga publishers to curb the wild proliferation of manga releases. A survey of American manga publishers done by ICv2 in late 2007 indicated that they had planned to release 1731 volumes of manga in 2008 after releasing more than 1400 in 2007. It now appears likely that the number of 2008 manga releases could have a hard time equaling the 2007 total, and that 2009 will see a decline—the first drop in the number of manga releases in the U.S. in the 21st Century.