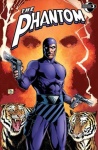 Joe Gentile of Moonstone Books has informed ICv2 that his company will continue to publish comics featuring Lee Falk's classic 1930's newspaper comic strip adventure hero, The Phantom. When Dynamite Comics announced that it was publishing a Phantom comic book at Wizard World Chicago (see "Dynamite Gets Rebellion, Phantom"), a Moonstone representative contacted by ICv2 was unaware of the changes in the Phantom publishing program. But after the show, Moonstone contacted King Features and discovered that neither Moonstone or Dynamite had an exclusive license, so Moonstone could continue with its publishing program.
Moonstone has already published five Phantom one-shot comics, a regular Phantom comic (24 issues plus an annual), three original Phantom graphic novels plus two graphic novel collections of the monthly comic, two volumes collecting Graham Nolan's Sunday newspaper comics, and a collection of prose stories featuring the Phantom.
Going forward Moonstone has plans to publish four more issues of its initial Phantom comic book series before revamping and re-launching it after issue #28. Other plans include a Phantom: Jungle Book trade paperback, a special featuring the female Phantom, and a Phantom miniseries.