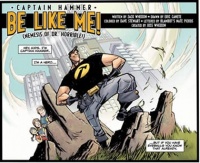 Joss Whedon is exploiting the new media that Hollywood writers and actors are so worried about with Dr. Horrible's Sing-Along Blog, a three-act musical that will premiere on the Web. The first act of the new musical will debut today (Tuesday, July 15th) with Act 2 due on Thursday followed by the third act on July 19th. All three acts will remain on line until July20th. A DVD of the musical will be released with a special musical commentary track that Whedon fans are sure to enjoy. Dark Horse is supporting the effort with a Dr. Horrible Web Comic featuring Dr. Horrible's nemesis Captain Hammer. The comic is written by Zack Whedon and illustrated by Eric Canete and is currently available for viewing on Dark Horse's My Space site.
Whedon, who wrote the cult favorite "Once More With Feeling" musical episode for his Buffy the Vampire Slayer TV show, conceived of the Dr. Horrible project during the writers' strike and managed to get a number of his favorite actors involved. Nathan Fillion (Serenity, Waitress) stars as the "superhero" Captain Hammer, with Neil Patrick Harris (Dougie Hauser, How I Met Your Mother) taking the role of Dr. Horrible, and Felicia Day (Buffy) providing the love interest. Judging from Dark Horse's Dr. Horrible comic, the musical will be a superhero satire suffused with plenty of Whedon's signature sarcasm.
Whedon has promised more Dr. Horrible comics and plans to screen the entire 3-Act musical at the San Diego Comic-Con where Dr. Horrible t-shirts will be available for his legions of fans.