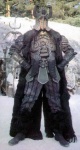 Actor Djimon Hounsou is partnering with Dynamite Entertainment to star in a movie built around Thulsa Doom, the legendary sorcerer created by Robert E. Howard, according to
Variety. The film will provide an origin story for the character of Thulsa Doom, who was portrayed by James Earl Jones in the 1982 Conan the Barbarian movie.
Dynamite's Nick Barrucci will produce the film, which he is developing along with Hounsou, Luke Lieberman and Arthur Lieberman. Barrucci and his team have not yet gotten the project set up at a studio.
Barrucci's Dynamite Entertainment is also developing a Thulsa Doom comic book series that is slated to debut in 2009. Barrucci and the Leibermans are also heavily involved in the development of a Red Sonja film, which is also based on a character originated by Robert E. Howard (see "Rose McGowan as Red Sonja").