IDW Publishing has announced the October 8th publication of graphic novel biographies of the leading candidates for President of the United States, Barack Obama and John McCain. The full color 28-page comic book bios will be available separately for $3.99 and in a flip-book version for $7.99. In addition to printed versions, mobile phone users will be able to purchase downloadable versions of the books through Uclick's Go Comics Website. Fan favorite artist J. Scott Campbell (Gen 13, Danger Girl) has provided the covers for both biographies.
Presidential Material: Barack Obama, which is written by Jeff Mariotte (River Runs Red) and illustrated by Ted Morgan, chronicles the Senator from Illinois' meteoric rise through the ranks of the Democratic Party and his stunning upset victory over Senator Hillary Clinton in the primaries.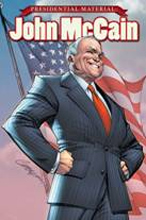 The other volume in the series,
Presidential Material: John McCain
, is written by Andy Helfer, the innovative former head of DC's Paradox Press and the author of graphic novel biographies of
Ronald Reagan
and
Malcolm X
published by Hill and Wang.
The McCain volume, which is illustrated by Stephen Thompson, explores the
Arizona
senator's family background, his courageous service in the Vietnam War, and his long and eventful tenure in the U.S. Senate.