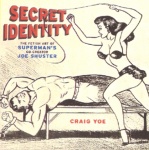 Harry N. Abrams, a leading American publisher of art books, has announced the launching of a new imprint Abrams Comic Art, which is slated to debut next spring with an impressive slate of seven titles. Charles Kochman, who has edited Jeff Kinney's Diary of Wimpy Kid, Mark Evanier's Kirby: King of Comics, and Brian Fies' Mom's Cancer, will oversee the new line, which will eventually reach 14-20 books per year.
Among the titles included in the Abrams Comic Art imprint launch are Secret Identity: The Fetish Art of Superman's Co-Creator Joe Shuster by Craig Yoe, an eerie collection of long forgotten bondage art in which all the males look like Clark Kent and all the females like are the spitting image of Lois Lane; a second volume of Tim Pilcher and Gene R. Kannenberg's Erotic Comics: A Graphic History, which will cover the subject from the Underground Comix of the 1970s to the present; and Brian Fies' Whatever Happened to the World of Tomorrow, a new graphic novel from the creator of Mom's Cancer.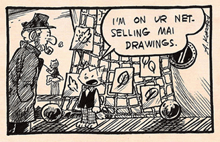 The high quality Abrams Comic Art titles will be issued as hardcovers with prices in the first wave of titles ranging from $12.95 for Adam Koford's
Laugh-Out-Loud Cats Sell
Out
to $40 for two art book-style collections,
The Art of Jaime Hernandez: Secrets of
Life
by Todd Hignite and
The Art of Harvey Kurtzman: The Mad Genius of Comics
by Denis Kitchen and Paul Buhle (see "
The Art of Harvey Kurtzman
").