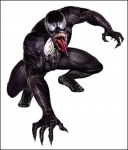 According to The Hollywood Reporter Sony is "moving forward with Venom," a spin-off feature film about the symbiotic supervillain, who made his first big screen appearance in Spider-Man 3. But don't necessarily expect Topher Grace, who played Eddie Brock/Venom in that film to reprise the role when the sticky symbiote gets his own tentpole—the studio isn't sure that the star of That 70s Show and In Good Company can carry a summer blockbuster on his slender shoulders, though weren't similar things said about Tobey Maguire before his triumphant debut as Peter Parker?
Interest in the Venom project has been fueled in part by the attention created by Heath Ledger's masterful portrayal of the villainous Joker, and according to The Hollywood Reporter Sony is hoping that the gooey gloater "could serve as an antidote to the aging Spider-Man franchise in the way that Fox has used Wolverine to add longevity to its X-Men franchise."
Still with a fourth installment of the Spider-Man franchise slated for release in 2011, Sony, which is looking for writers to pen a rewrite on a Venom script by Jacob Estes, will have to move quickly if it wants a Venom feature to spice up the franchise in 2010.