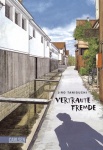 Jiro Taniguchi's award-winning two-volume manga series Harukana Machi-e will be published in English as A Distant Neighborhood by Fanfare/Ponent Mon in 2009. A Distant Neighborhood is a classic in the gekiga genre of realistic manga, and a true, internationally recognized comic masterwork. Taniguchi's Twilight Zone-like time-traveling saga of a middle-aged business man who returns to his hometown and is transported back to his youth won the Excellence Prize in the Japan Media Arts Festival in 1999, while in 2003 it took the prestigious Alph Art award at the Angouleme International Comics Festival.
In a similar time-traveling episode of the Twilight Zone, the protagonist who returns to the hometown and the era of his childhood with the consciousness of an adult sees through the false patina of nostalgia that had clouded his view of the past and comes to grip with the jingoism and prejudices of the era. But in Taniguchi's subtler, more realistic and personal saga the hero discovers the burdens of his parents and empathizes with them in a manner that he was unable to with the semi-formed consciousness of a junior high school student.
Fanfare/Ponent Man will publish an English translation of Frederic Boilet's French version that won the Alph Art prize.