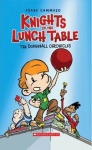 Knights of the Lunch Table: The Dodgeball Chronicles
Published by Scholastic July 2008
$9.99 144 pages
ISBN: 978-0-439-90322-6
Creator: Frank Cammuso
Age Rating: 8+
ICv2 Stars: 4.5 (out of 5)
In this retelling of the legend of King Arthur, trouble begins the minute young Artie King wakes up on the morning of his first day at Camelot Middle School. He's tormented by his sister Morgan, bullied by members of the school's dodgeball team, who call themselves The Horde, and given detention by Principal Dagger. Not an auspicious start for poor Artie, but he manages to make friends with classmates Percy and Wayne, and finds an ally in his science teacher, Mr. Merlyn. And when his locker, which no one has been able to budge for as long as anyone can remember, opens at his touch, mysterious things begin to happen. But will all this be enough to help Artie survive his greatest challenge – beating The Horde in a winner-take-all game of dodgeball?
The story sets up quickly and with little fanfare, so the fact that it follows the plot of the Arthurian legends may go unnoticed by kids unfamiliar with the tale. This hardly matters, as the story grabs the reader early and maintains its level of excitement throughout. While adult readers may groan at some of the ways author Cammuso manages to weave in the Arthurian lore, middle school readers who are familiar with the King Arthur tales will enjoy spotting the similarities between the two stories. The cartoonish art is vibrant and the backgrounds are full of side jokes that will make alert readers laugh out loud. A satisfying read, this book is recommended for readers age eight and up.
-Eva Volin
Supervising Children's Librarian for the Alameda Free Library in California and recent Eisner Award judge.