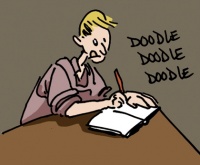 We recently spoke with First Second Editorial Director Mark Siegel for an update on the company's releases and its view of the market. In Part Three, we continue the discussion of First Second's 2009 publishing plans (including First Second's first manhwa title), plus the company's efforts to target the education and library markets. In Part One, we talk about the state of the graphic novel market given the current economic conditions, and the response to First Second's releases from spring 2008. In Part Two, we talk about First Second's bestselling books of all time, and the top prospects for Fall 2008 and for Spring 2009.
[Continuing discussion of Spring '09 releases from Part Two.]
Another thing in spring is our first manhwa, from Kim Dong Hwa. The book is called The Color of Earth. It's a trilogy--we're going to release three 300-page volumes one after the other. It's an exceptional story. It's aimed at girls, about a young girl coming of age and discovering love and sexual awakening story. Her mother, who is a widow, is also falling in love again, and the daughter is falling in love for the first time. It's an extraordinary story. The artwork I find incredibly appealing.
Response to the Korean material had a surge around 2003-04, but since then has softened. Why are you going against that trend?
Because I'm really not trying for trends; I feel like First Second lives in a bit of a different space. It's going for authors. I came across the French edition of this when I was at Angouleme last January, and I read this and it was so affecting and such a great reading experience. I felt this is a voice I can relate to and something I would be very proud to publish.
So you're saying that like your European stuff, it's just a First Second book, it's not a manhwa?
Exactly. Just like the European stuff, we want them seen as authors, as creators, along side all the great American stuff that's happening. First Second started off with a lot more Europeans while the original commissions were getting underway, but now we're starting to find that balance. On every list I want to have something that keeps us feeling like a world wide imprint but with a strong core of American creators.
The Color of Earth is something I'm very excited about. I feel that spring '09 we're going to hitting with some serious heavy artillery. The other book for spring 2009 is Adventures in Cartooning--James Sturm and a couple of his compadres from the Center for Cartoon Studies. It's just crazy, delightful, whimsical. It's both an adventure where you can follow along and also teaches you how to make comics. The subtitle is "how to turn your doodles into comics."
So there's instructional text as well?
Yes, it's instructional but it's also narrative. You're following little characters that take you through the telling of a story as well as the story itself.
You said it's for a younger audience?
Yes, it's for 7-10 or 12.
What do you have coming later in 2009?
For fall '09, we'll have the third volume of The Color of Earth trilogy. We'll get out the first two in spring and a third volume in fall. We have a book called Stuffed! with artwork by Nick Bertozzi and writing by Glen Eichler. He created the show Daria and more recently he's a writer for the Colbert Report. It's a marvelous dark comedy; very adult. We have also Ball-pene Hammer, which is by playwright Adam Rapp–he's a film director and a very hot playwright at the moment and also a novelist. The artwork is by George O'Connor, who has done a book for us already and has done a number of picture books. This is a real departure for him because it's one of the darkest, very adult, very frightening, somewhat post-apocalyptic future. I think that's going to make some ripples.
We have a Richard Sala title--a young title called Cat Burglar Black, which is young--and a mystery. And then there's Steven Seagle and Teddy Kristiansen, for Vertigo they did It's a Bird, one my favorite Vertigo titles. They're doing a book for us called Genius for fall '09.
Is your number of releases for '09 staying consistent with this year?
Yes, I think it's a little more than this year; 12 titles. At some point in the near future we may be going up a bit, but I don't want to be trying swelling the ranks for no reason. I want to make sure we can maintain the quality at every stage. But it looks we'll probably be having a bigger list in 2010 by a bit.
I should also mention Tiny Tyrant that we first released about a year ago. It got very good reviews but it was considered to be too small for young readers so we're re issuing it in two volumes in our bigger trim size. One will be in spring '09 and one in fall. It's very funny, very good writing, very young.
Is all of your stuff still going into the graphic novel section of the bookstores or is some of it going into the kids section?
Some of it's going into kids, and in the case of Barnes and Noble the comics and manga section they have now in the young readers. Some librarians now are breaking them out differently. That's partly why we're separating out some titles at different trim sizes, like we did for Little Vampire and also Kaput & Zotsky, so we're building that line of our collection as an easy-to-distinguish format.
On your Website there are lesson plans. It seems like you're targeting the educational market and you've always pursued libraries. Can you talk about the role of the educational and library market for First Second?
It's true; we've gone after that from the start. And someone like Gene Yang who teaches and who is very good in front of teachers and has made some lesson plans for some of our books.
At every fair, every convention, I get more educators and teachers in my meetings and in our conversations. Clearly they see First Second to be a good pool to be fishing in. They range from middle-school through college. We're getting people working with our books as the basis for classroom teaching. Except for our text books, we're not aiming for didactic work or we're not trying to say promote literacy or those kinds of things, but some books really serve those purposes well. It's funny because Robot Dreams, which is wordless and was just recently for Oprah's kid list (that's a nice piece of news for us)--that book, even though it's very simple and wordless--just images--is such rich storytelling that it's serving all different purposes. And there are some college teachers that have used it in storytelling and screenwriting classes, and we have young classes that are using it--inviting the young readers to become participants--narrate the story. That's interesting. There are other things happening with sometimes surprising titles that find their way into classrooms.
So for us it is important, it is interesting, it does tie in to the bigger world of the libraries. I think it would be crazy in America--in a country that has 75,000 libraries--not to take that very seriously. Especially when you have among teen librarians and now there's a growing number of school librarians, very vocal champions of comics and graphic novels who know what they're talking about who put together some very up-to-date lists recommending titles and those people make it possible to play a real part in marketing plans.