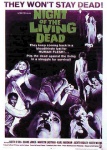 Variety is reporting that George A. Romero, who revivified the zombie genre with Night of the Living Dead in 1968 and went on to direct Dawn of the Dead, Day of the Dead, Land of the Dead and Diary of the Dead, is currently shooting a new zombie film in Ontario that may or may not end up being called Island of the Dead.
The action in the new film takes place on an isolated island off the coast of North America where the inhabitants find their relatives are rising from the dead. The conflict in the film stems not just from the islanders attempt to keep the zombies from eating their own descendants, but also from a split in the island community as whether to destroy the zombies or attempt to keep them alive until a cure could be found that would bring them back to some sort of a normal life.
According to Variety Canadian actor Kenneth Welch (Fantastic Four: Rise of the Silver Surfer) is starring in the film along with Alan Van Sprang, Kathleen Munroe, and Devon Bostick.
Night of the Living Dead and Romero's subsequent zombie films have inspired a number of comic book series as well as plenty of books and collector-oriented action figures—to say nothing of the having an influence on the realistic, psychologically-nuanced nature of the characters in Robert Kirkman's increasingly popular zombie saga, The Walking Dead, which is published by Image Comics.