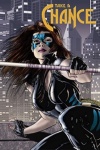 Dabel Bros. Publishing is launching Take a Chance, a new comic book series written by novelist C.E. Murphy (Urban Shaman, The Queen's Bastard). Murphy, who recently signed with Del Rey to write two contemporary paranormal fantasies, calls the comic book series Take a Chance her "pet project." It certainly is an original take on the superhero genre. After her 4-year-old son is killed, Frankie Kemp takes to the street as a masked crimefighter without superpowers. But when a super soldier virus escapes from North Korea and renders those it doesn't kill far more powerful than other mortals, the world becomes a very different place.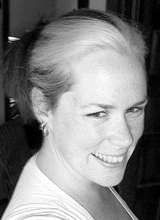 With art by Ardian Syaf (
The Dresden Files
), coloring by Jason Embury (
Shadowhawk
), and a cover by Scott Clark (
X-Men
), this original series will debut in December with 50% of the author's proceeds from the first issue going to the Comic Book Legal Defense Fund.
Murphy will also donate 10% of her proceeds from the first
Take a Chance
graphic novel collection to the CBLDF.