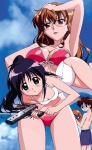 In a significant change in its business model, ADV is now localizing and distributing anime for its new partner Sentai Filmworks (see "Interview With John Ledford, Part I"), rather than licensing content for North America. Under its new agreement with Sentai, ADV has announced a slate of anime releases for 2009. The list includes a number of titles originally released by other companies but also some new series led by Clannad, an eagerly awaited 24-episode series from Kyoto Animation that aired in Japan from October of 2007 until March of 2008. It's directed by Tatsuya Ishihara (Kanon, Air, The Melancholy of Haruhi Suzumiya) and based on a visual novel (basically an interactive fiction game) created by the software company Key, the same company that produced Kanon and Air. Kyoto Animation is currently one of the hottest anime studios in Japan thanks to the success of such series as Lucky Star, The Melancholy of Haruhi Suzumiya, Kanon, and Air.
ADV plans to release the first volume of the Clannad anime series on April 21, 2009. The first volume will include four episodes of the series (ADV will release a total of six volumes of the Clannad anime). The Clannad property has been hugely successful in Japan where it has inspired no fewer than four manga series as well as drama CDs and a feature film from Toei that debuted in 2007. A second season of the Kyoto Animation Clannad anime has already been announced in Japan.
The other new series announced by ADV is the Indian Summer OVA Collection, which will be released on March 10th, 2009. The three-episode Indian Summer OVA Collection, which is chock full of fan service, is based on a manga series by Takehito Mizuki (ComicsOne released one volume of the manga here in 2005—see "ADV Announces Indian Summer").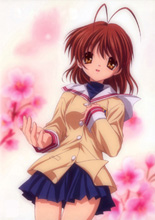 ADV is also releasing a number of Sentai titles that have been distributed here in the
U.S.
by other companies.
The harem/maid comedy
Mahoromatic,
which was originally released here by Geneon, is coming out in a complete set (MSRP $44.98) on January 13th followed by the sequel
, Mahoromatic: Something More Beautiful Complete Set
(MSRP $44.98) on February 17th.
Also due out in January (on the 20th) is the 12-episode Tsukihime anime series that was also previously released in North America by Geneon.
Other reissues include a collection of the four long out-of-print Pet Shop of Horrors OVAs, which are based on the popular shojo horror manga series by Matsuri Akino (published here by Tokyopop). The Pet Shop of Horrors OVAs were released on DVD back in 2001 by Urban Vision. Mint condition copies of the Special Edition of the original Pet Shop of Horrors DVD are currently selling for quite a premium (well over $100).
Also announced as part of the Sentai releases is the ecchi comedy Jewel Bem Hunter Lime, a sexy series of 3 OVAs (rated 16+), that Media Blasters released here in 2001.