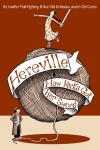 Harry N. Abrams'Young Adult imprint Amulet Books has acquired the publication rights to Barry Deutsch's fanciful online comic strip adventure, Hereville: How Mirka Got Her Sword. Described by The Washington Post as "what you get when you cross Buffy the Vampire Slayer and Isaac Bashevis Singer," the Hereville online strip will be expanded into a Y.A. graphic novel and published by Amulet in the spring of 2010. The heroine of Hereville is Mirka, an eleven-year-old girl who dreams of fighting mythological monsters, but has to balance her fantasies with the demands of family life in the Orthodox Jewish community in which she lives.
Hereville creator Barry Deutsch, who studied with Will Eisner at the School of Visual Arts, won the Charles Schulz Award for college cartooning and has been nominated for the Russ Manning Award for outstanding new talent.
The acquisition of Hereville was negotiated by Charles Kochman, the Executive Editor of Abrams Comic Arts (and an increasingly important figure in the expansion of graphic novel publishing by mainstream publishers), and Judy Hansen of the Hansen Literary Agency, who has negotiated a number of recent graphic novel acquisitions (see "Scholastic Acquires Telgemeier's Smile," "Simon and Schuster Nabs Amelia Rules," and "Copper Sold to Scholastic").