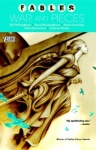 These are estimates of the sales on graphic novels by Diamond U.S. to comic specialty stores during November 2008.

For an overview and analysis of comic sales in November see "Leading Comics Absent in November."

For an analysis of the dollar trends in November, see "'Fables' Tops Comic Store GNs."
For our estimates of actual sales by Diamond
U.S.
from comic specialty stores on comic books shipped during November, see "
Top 300 Comics Actual--November 2008
."
TOP 300 GNs -- NOVEMBER 2008

Rank

Index

Title

Price

Pub

Est.Qty

1

12.4

FABLES TP VOL 11 WAR & PIECES (MR)

$17.99

DC

12,791

2

9.74

MICHAEL TURNER TRIBUTE GN

$8.99

ASP

10,047

3

8.97

BTVS SEASON 8 TP VOL 03 WOLVES AT THE GATE

$15.95

DAR

9,253

4

8.95

HEROES HC VOL 02*

$29.99

DC

9,232

5

7.86

WATCHMEN HC

$39.99

DC

8,108

6

6.45

JLA AVENGERS TP

$19.99

DC

6,653

7

5.61

WATCHMEN TP*

$19.99

DC

5,787

8

5.34

JOKER HC

$19.99

DC

5,508

9

5.14

NARUTO TP VOL 32

$7.95

VIZ

5,302

10

4.38

FRUITS BASKET GN VOL 21 (Of 23)

$9.99

TKP

4,518

11

4.3

FREAKANGELS TP VOL 01 (MR)

$19.99

AVA

4,435

12

4.27

BPRD TP VOL 09 1946

$17.95

DAR

4,405

13

3.86

HULK PREM HC VOL 01 RED HULK

$24.99

MAR

3,982

14

3.48

COUNTDOWN TO FINAL CRISIS TP VOL 04

$19.99

DC

3,590

15

3.48

ULTIMATE X-MEN ULTIMATE COLLECTION TP VOL 02

$24.99

MAR

3,590

16

3.45

ABSOLUTE SANDMAN HC VOL 04 (MR)

$99.00

DC

3,559

17

3.36

TWISTED TOYFARE THEATRE TP VOL 09

$12.99

WIZ

3,466

18

3.35

FABLES COVERS BY JAMES JEAN HC (MR)

$39.99

DC

3,456

19

3.27

BERSERK TP VOL 26

$13.95

DAR

3,373

20

3.19

WALKING DEAD HC VOL 04 (MR)

$29.99

IMA

3,291

21

3.18

ULTIMATE HULK VS IRON MAN TP ULTIMATE HUMAN

$15.99

MAR

3,280

22

3.05

STAR WARS REBELLION TP VOL 03 SMALL VICTORIES

$12.95

DAR

3,146

23

3

X-MEN POPTOPIA TP

$15.95

MAR

3,095

24

2.92

CHRONICLES O/CONAN TP VOL 16 ETERNITY WAR & OTHER STORIES

$16.95

DAR

3,012

25

2.88

BATMAN GOTHAM UNDERGROUND TP

$19.99

DC

2,971

26

2.86

X-MEN LEGACY TP VOL 01 DIVIDED HE STANDS

$15.99

MAR

2,950

27

2.85

GREEN LANTERN CORPS RING QUEST TP

$14.99

DC

2,940

28

2.84

NEW AVENGERS PREM HC VOL 08 SECRET INVASION BOOK 1

$19.99

MAR

2,929

29

2.79

EXTERMINATORS TP VOL 05 BUG BROTHERS FOREVER (MR)

$14.99

DC

2,878

30

2.73

TEEN TITANS YEAR ONE TP

$14.99

DC

2,816

31

2.64

AVENGERS THE INITIATIVE TP VOL 02 KILLED IN ACTION

$19.99

MAR

2,723

32

2.6

WATCHMEN THE ABSOLUTE EDITION HC

$75.00

DC

2,682

33

2.6

SHOWCASE PRESENTS WONDER WOMAN TP VOL 02

$16.99

DC

2,682

34

2.55

SHOWCASE PRESENTS SGT ROCK TP VOL 02

$16.99

DC

2,630

35

2.54

DAREDEVIL MILLER JANSON TP VOL 01

$29.99

MAR

2,620

36

2.53

CAPTAIN AMERICA PREM HC VOL 03 DEATH CAPT AMERICA

$19.99

MAR

2,610

37

2.48

BATMAN EGO & OTHER TAILS TP

$17.99

DC

2,558

38

2.48

THUNDERBOLTS WARREN ELLIS TP VOL 02 CAGED ANGELS

$14.99

MAR

2,558

39

2.45

BATMAN RULES O/ENGAGEMENT TP

$19.99

DC

2,527

40

2.39

JACK KIRBYS THE DEMON OMNIBUS HC

$49.99

DC

2,465

41

2.31

TRIGUN MAXIMUM TP VOL 13 DOUBLE DUEL

$9.95

DAR

2,383

42

2.25

WARCRAFT LEGENDS GN VOL 02 (Of 5)

$10.99

TKP

2,321

43

2.25

DIANA PRINCE WONDER WOMAN TP VOL 03

$19.99

DC

2,321

44

2.24

YU GI OH GX GN VOL 02

$7.99

VIZ

2,311

45

2.24

DISNEYS DUCKTALES GOLD ODYSSEY TP

$15.99

GEM

2,311

46

2.18

ESSENTIAL HULK TP VOL 05

$16.99

MAR

2,249

47

2.16

SUPERMAN VS BRAINIAC TP

$19.99

DC

2,228

48

2.16

TSUBASA GN VOL 19

$10.95

RAN

2,228

49

2.09

NEW X-MEN BY MORRISON ULTIMATE COLL TP BOOK 03

$34.99

MAR

2,156

50

2.05

YOUNG X-MEN TP VOL 01 FINAL GENESIS

$14.99

MAR

2,115

51

2.03

PULSE TP VOL 02 SECRET WAR

$11.99

MAR

2,094

52

2.02

NIGHTWING FREEFALL TP

$17.99

DC

2,084

53

2.01

WANTED TP MOVIE ED

$19.99

IMA

2,073

54

2

ANGEL OMNIBUS TP

$24.99

IDW

2,063

55

1.97

FATHOM DEFINITIVE ED TP

$49.99

ASP

2,032

56

1.86

CHIBI VAMPIRE GN VOL 11 (Of 13) (MR)

$9.99

TKP

1,919

57

1.84

GHOST RIDER TP VOL 05 HELL BENT HEAVEN BOUND

$16.99

MAR

1,898

58

1.83

JUSTICE LEAGUE INTERNATIONAL HC VOL 03

$24.99

DC

1,888

59

1.79

CIVIL WAR HC

$39.99

MAR

1,846

60

1.76

ALIENS OMNIBUS TP VOL 05

$24.95

DAR

1,815

61

1.74

X-MEN MAGIK STORM AND ILLYANA PREM HC*

$19.99

MAR

1,795

62

1.71

BOOSTER GOLD HC VOL 02 BLUE & GOLD

$24.99

DC

1,764

63

1.71

MOON KNIGHT TP VOL 03 GOD & COUNTRY

$19.99

MAR

1,764

64

1.71

OURAN HIGH SCHOOL HOST CLUB TP VOL 11

$8.99

VIZ

1,764

65

1.69

MMW INVINCIBLE IRON MAN HC VOL 05*

$54.99

MAR

1,743

66

1.68

PUNISHER TP BARBARIAN WITH A GUN

$15.99

MAR

1,733

67

1.66

QUESTION TP VOL 03 EPITAPH FOR A HERO

$19.99

DC

1,712

68

1.61

ROBIN VIOLENT TENDENCIES TP

$17.99

DC

1,661

69

1.61

CIVIL WAR HC DM ED

$39.99

MAR

1,661

70

1.59

LIQUID CITY GN

$29.99

IMA

1,640

71

1.58

COUNTER X TP VOL 03

$19.99

MAR

1,630

72

1.58

MMW GOLDEN AGE ALL WINNERS HC VOL 03*

$59.99

MAR

1,630

73

1.55

CIVIL WAR TP

$24.99

MAR

1,599

74

1.54

X-MEN LEGACY PREM HC VOL 02 SINS OF FATHER

$24.99

MAR

1,589

75

1.54

X-MEN FIRST CLASS TP BAND O/BROTHERS

$14.99

MAR

1,589

76

1.53

ULTIMATE ELEKTRA DEVILS DUE TP

$11.99

MAR

1,578

77

1.52

SPIDER-MAN PREM HC KRAVENS FIRST HUNT

$19.99

MAR

1,568

78

1.51

PULSE TP VOL 03 FEAR

$14.99

MAR

1,558

79

1.5

STRAY TOASTERS TP (NEW PTG)

$24.99

IMA

1,547

80

1.47

TRANSFORMERS MOVIE SEQUEL REIGN O/STARSCREAM TP

$19.99

IDW

1,516

81

1.47

NEON GENESIS EVANGELION TP VOL 11

$9.99

VIZ

1,516

82

1.44

UNDERWOLD RISE O/LYCANS COLLECTED ED TP

$7.99

IDW

1,485

83

1.43

LAST DEFENDERS TP

$15.99

MAR

1,475

84

1.42

D GRAY MAN GN VOL 11

$7.99

VIZ

1,465

85

1.41

PUNISHER BY GARTH ENNIS OMNIBUS HC

$99.99

MAR

1,454

86

1.4

CODE GEASS LELOUCH O/REBELLION GN VOL 02

$9.99

BAN

1,444

87

1.38

DRAIN TP VOL 01 (MR)

$16.99

IMA

1,423

88

1.35

MYTHOS HC VOL 01

$24.99

MAR

1,393

89

1.35

SONIC THE HEDGEHOG SELECT TP VOL 02

$11.95

ARC

1,393

90

1.33

OH MY GODDESS RTL TP VOL 10

$10.95

DAR

1,372

91

1.31

CLAYMORE TP VOL 13

$7.99

VIZ

1,351

92

1.3

ARCHER & ARMSTRONG FIRST IMPRESSIONS HC

$24.95

VAL

1,341

93

1.29

SLOTH TP (MR)

$14.99

DC

1,331

94

1.28

BATMAN DARK KNIGHT RETURNS TP

$14.99

DC

1,320

95

1.27

UN-MEN TP VOL 02 CHILDREN OF PARADOX (MR)

$19.99

DC

1,310

96

1.2

IMPALER TP VOL 01

$14.99

IMA

1,238

97

1.2

TRINITY BLOOD GN VOL 08 (Of 10) (MR)

$9.99

TKP

1,238

98

1.2

TANK GIRL VISIONS OF BOOGA TP

$17.99

IDW

1,238

99

1.19

48 MORE ASHLEY WOOD NUDES SC (MR)

$14.99

IDW

1,227

100

1.18

NANA TP VOL 13 (MR)

$8.99

VIZ

1,217

101

1.18

MARVEL ADVENTURES FANTASTIC FOUR VOL 10 SPACED DIGEST

$8.99

MAR

1,217

102

1.17

NEW TEEN TITANS ARCHIVES HC VOL 04

$49.99

DC

1,207

103

1.15

ESSENTIAL MARVEL SAGA TP VOL 02

$16.99

MAR

1,186

104

1.13

BLACK CAT TP VOL 17

$7.99

VIZ

1,166

105

1.12

POPEYE HC VOL 03 LETS YOU & HIM FIGHT

$29.99

FAN

1,155

106

1.12

BAT LASH GUNS & ROSES TP

$17.99

DC

1,155

107

1.12

BATMAN THE KILLING JOKE SPECIAL ED HC

$17.99

DC

1,155

108

1.12

DEAD SPACE HC

$24.99

IMA

1,155

109

1.1

V FOR VENDETTA TP

$19.99

DC

1,135

110

1.09

GTO EARLY YEARS SHONAN JUNAI GUMI GN VOL 09 (Of 15) (MR)

$12.99

TKP

1,124

111

1.08

DRAGONLANCE LEGENDS TP VOL 01 TIME O/TWINS

$18.99

DEV

1,114

112

1.06

SHAMAN KING TP VOL 19

$7.95

VIZ

1,093

113

1.04

INU YASHA TP VOL 35

$8.95

VIZ

1,073

114

1.04

FANTASTIC WORLDS OF FRANK FRAZETTA HC

$29.99

IMA

1,073

115

1.03

MARVEL ADVENTURES IRON MAN TP ARMORED AVENGER DIGEST

$8.99

MAR

1,062

116

1.02

BONE STUPID STUPID RAT TAILS TP

$9.95

CAR

1,052

117

1.02

GEN 13 TP VOL 03 15 MINUTES

$14.99

DC

1,052

118

1.02

STAR TREK YEAR FOUR ENTERPRISE EXPERIMENT TP

$19.99

IDW

1,052

119

1.01

TED MCKEEVER LIBRARY HC VOL 01

$24.99

IMA

1,042

120

1

ULTIMATE X-MEN TP SPANISH COLLECTION

$29.99

MAR

1,032

121

0.99

FUSHIGI YUGI GENBU KAIDEN TP VOL 07

$8.99

VIZ

1,021

122

0.99

WET MOON GN VOL 04 (MR)

$14.95

ONI

1,021

123

0.97

WALKING DEAD TP VOL 01 DAYS GONE BYE

$9.99

IMA

1,001

124

0.96

SAMURAI DEEPER KYO GN VOL 31 (Of 38) (MR)

$9.99

TKP

990

125

0.95

STYLE SCHOOL GN VOL 03

$16.95

DAR

980

126

0.94

NORTHLANDERS TP VOL 01 SVEN THE RETURNED (MR)

$9.99

DC

970

127

0.94

ART OF MARVEL COMICS HC VOL 01

$29.99

MAR

970

128

0.93

UMBRELLA ACADEMY APOCALYPSE SUITE TP

$17.95

DAR

959

129

0.92

HOUSE OF M TP

$24.99

MAR

949

130

0.92

ULTIMATE SPIDER-MAN TP SPANISH COLLECTION

$29.99

MAR

949

131

0.91

REX MUNDI TP VOL 05 VALLEY AT END O/WORLD

$17.95

DAR

939

132

0.88

YOUNGBLOOD HC VOL 01

$34.99

IMA

908

133

0.87

ROSE HIP ROSE GN VOL 03 (Of 4) (MR)

$10.99

TKP

897

134

0.87

VAMPIRES PORTRAIT GN VOL 01 (Of 2) (MR)

$12.95

DIG

897

135

0.86

FABLES TP VOL 01 LEGENDS IN EXILE

$9.99

DC

887

136

0.85

STANS SOAPBOX COLLECTION TP

$14.99

UPP

877

137

0.84

Y THE LAST MAN TP VOL 01 UNMANNED

$12.99

DC

866

138

0.82

PRINCE VALIANT TP VOL 01 FAR FROM CAMELOT

$19.99

AND

846

139

0.82

BATMAN THE LONG HALLOWEEN TP

$19.99

DC

846

140

0.82

ULTIMATES TP VOL 01

$12.99

MAR

846

141

0.81

SCHOOL RUMBLE GN VOL 11

$10.95

RAN

836

142

0.8

MARVEL ILLUSTRATED TP MAN I/IRON MASK

$14.99

MAR

825

143

0.8

IRON MAN HC ART OF IRON MAN MOVIE

$49.99

MAR

825

144

0.8

ARKHAM ASYLUM ANNIVERSARY ED SC (MR)

$17.99

DC

825

145

0.79

UMBRELLA ACADEMY APOCALYPSE SUITE LTD ED HC

$79.95

DAR

815

146

0.78

CAPTIVE HEARTS GN VOL 01

$8.99

VIZ

805

147

0.77

MARVEL ILLUSTRATED TP LAST O/MOHICANS

$14.99

MAR

794

148

0.77

SPECTACULAR SPIDER-MAN TP VOL 02 COUNTDOWN

$11.99

MAR

794

149

0.76

LUCHA LIBRE TP VOL 01

$14.99

IMA

784

150

0.76

WALKING DEAD TP VOL 08 MADE TO SUFFER (MR)

$14.99

IMA

784

151

0.76

STAR TREK ARCHIVES TP VOL 02 BEST O/BORG

$19.99

IDW

784

152

0.75

VASSALORD GN VOL 02 (Of 2) (MR)

$9.99

TKP

774

153

0.75

HUNTER X HUNTER TP VOL 23

$7.99

VIZ

774

154

0.74

SANDMAN TP VOL 01 PRELUDES & NOCTURNES

$19.99

DC

763

155

0.73

JOHNNY HOMICIDAL MANIAC DIRECTORS CUT SC

$19.95

SLA

753

156

0.73

KABUKI GN VOL 01 (Of 4) FLOWER (MR)

$12.95

DIG

753

157

0.73

DARK TOWER LONG ROAD HOME HC

$24.99

MAR

753

158

0.73

KUROHIME TP VOL 08

$7.99

VIZ

753

159

0.72

PEACE MAKER GN VOL 05 (Of 5) (MR)

$9.99

TKP

743

160

0.72

TOKKO GN VOL 02 (MR)

$10.99

TKP

743

161

0.71

ROMANTIC ILLUSIONS GN (MR)

$12.95

DIG

732

162

0.7

BOYS TP VOL 03 (MR)

$19.99

DE

722

163

0.69

GANKUTSUOU GN VOL 01

$10.95

RAN

712

164

0.69

WALKING DEAD TP VOL 02 MILES BEHIND US (MR)

$12.99

IMA

712

165

0.69

AIR GEAR GN VOL 10 (MR)

$10.95

RAN

712

166

0.69

SA GN VOL 07

$8.99

VIZ

712

167

0.68

WARHAMMER CONDEMNED BY FIRE TP

$16.99

BOO

701

168

0.68

ROSE SC

$19.95

CAR

701

169

0.68

SIGHING KISS GN (MR)

$12.95

DIG

701

170

0.67

PATHOS GN VOL 02 (Of 2) (MR)

$12.95

DIG

691

171

0.66

SKIP BEAT TP VOL 15

$8.99

VIZ

681

172

0.65

SWALLOW ME WHOLE

$19.95

TOP

670

173

0.65

ALANS WAR GN

$24.00

ST.

670

174

0.65

BATMAN HUSH TP VOL 01

$12.99

DC

670

175

0.65

HIGH SCHOOL DEBUT GN VOL 06

$8.99

VIZ

670

176

0.64

DAWN OF LOVE GN (MR)

$12.95

DIG

660

177

0.64

X-MEN VIGNETTES TP VOL 01

$17.95

MAR

660

178

0.64

SKY DOLL PREM HC (MR)

$24.99

MAR

660

179

0.63

Y THE LAST MAN TP VOL 10 WHYS AND WHEREFORES (MR)

$14.99

DC

650

180

0.63

WE WERE THERE GN VOL 01

$8.99

VIZ

650

181

0.62

Y THE LAST MAN TP VOL 02 CYCLES (MR)

$12.99

DC

640

182

0.62

CREEPY ARCHIVES HC VOL 02

$49.95

DAR

640

183

0.62

SUNFLOWER GN VOL 02 (Of 2) (MR)

$12.95

DIG

640

184

0.62

ZOMBIE TALES TP VOL 02 OBLIVIAN

$15.99

BOO

640

185

0.61

BAREFOOT WALTZ GN (MR)

$12.95

DIG

629

186

0.61

YOUR AND MY SECRET GN VOL 03 (Of 4)

$9.99

TKP

629

187

0.6

PRINCE OF TENNIS GN VOL 28

$7.95

VIZ

619

188

0.6

KING OF THORN GN VOL 06 (Of 6) (MR)

$9.99

TKP

619

189

0.59

LEGEND OF ZELDA GN VOL 01

$7.99

VIZ

609

190

0.58

SPACE RAOUL GN VOL 01

$8.95

SLA

598

191

0.58

RED ANGEL GN VOL 02 (Of 2) (MR)

$12.95

DIG

598

192

0.58

GENTLEMANS KISS GN VOL 02 (Of 2) (MR)

$12.95

DIG

598

193

0.57

100 BULLETS TP VOL 02 SPLIT SECOND CHANCE

$14.99

DC

588

194

0.57

STAR WARS CLONE WARS ADVENTURES TP VOL 01

$6.95

DAR

588

195

0.57

Y THE LAST MAN TP VOL 03 ONE SMALL STEP (MR)

$12.99

DC

588

196

0.57

HULK WWH TP

$24.99

MAR

588

197

0.57

BLEACH SOULS OFFICIAL CHARACTER BOOK

$14.99

VIZ

588

198

0.56

WILD ADAPTER GN VOL 06 (Of 6) (A)

$9.99

TKP

578

199

0.56

WOLVERINE ORIGIN PREMIERE HC

$19.99

MAR

578

200

0.56

CAPTAIN AMERICA TP VOL 02 DEATH O/CAPTAIN AMERICA

$14.99

MAR

578

201

0.56

ELEKTRA BY FRANK MILLER OMNIBUS HC DM ED

$74.99

MAR

578

202

0.55

LOVE COM TP VOL 09

$8.99

VIZ

567

203

0.55

FABLES TP VOL 02 ANIMAL FARM

$12.99

DC

567

204

0.55

GIN TAMA TP VOL 09

$7.99

VIZ

567

205

0.54

MAO-CHAN GN VOL 01

$14.95

RAN

557

206

0.54

WALKING DEAD TP VOL 07 CALM BEFORE (MR)

$12.99

IMA

557

207

0.53

FREAKANGELS HC VOL 01 (MR)

$27.99

AVA

547

208

0.53

FRANK BELLAMY KING ARTHUR & HIS KNIGHTS TP

$24.99

DIA

547

209

0.53

COMICS FOR IDIOTS BLECKY YUCKERELLA GN (MR)

$11.99

FAN

547

210

0.53

BLUE EYES GN VOL 04 (A)

$19.95

ICA

547

211

0.53

AMERICAN ELF VOL 03 SKETCHBOOK DIARIES O/JAMES KOCHALKA (MR)

$19.95

TOP

547

212

0.52

ULTIMATES 2 TP VOL 02 GRAND THEFT AMERICA

$19.99

MAR

536

213

0.52

MIGHTY AVENGERS TP VOL 01 ULTRON INITIATIVE

$14.99

MAR

536

214

0.52

EX MACHINA TP VOL 07 EX CATHEDRA (MR)

$12.99

DC

536

215

0.52

YOU MAKE MY HEAD SPIN GN (MR)

$12.95

DIG

536

216

0.52

ALL STAR SUPERMAN TP VOL 01

$12.99

DC

536

217

0.51

TEZUKAS BLACK JACK TP VOL 02

$16.95

RAN

526

218

0.51

VEEPS HC (MR)

$19.95

TOP

526

219

0.51

AQUA BLESS GN (A)

$19.95

ICA

526

220

0.5

WALKING DEAD TP VOL 04 HEARTS DESIRE (MR)

$12.99

IMA

516

221

0.5

FAIRY CUBE GN VOL 03

$8.99

VIZ

516

222

0.5

Y THE LAST MAN TP VOL 05 RING O/TRUTH (MR)

$14.99

DC

516

223

0.5

SERENITY BETTER DAYS TP

$9.95

DAR

516

224

0.5

100 BULLETS TP VOL 01 FIRST SHOT LAST CALL

$9.99

DC

516

225

0.5

ASTONISHING X-MEN TP VOL 03 TORN

$14.99

MAR

516

226

0.5

FAR WEST PKT MANGA TP VOL 01 (MR)

$14.95

ANT

516

227

0.49

NODAME CANTABILE GN VOL 15 (MR)

$10.95

RAN

505

228

0.49

FRANK MILLER SIN CITY TP VOL 01 2ND HARD GOODBYE (MR)

$17.00

DAR

505

229

0.49

PREACHER TP VOL 01 GONE TO TEXAS NEW EDITION (MR)

$14.99

DC

505

230

0.49

Y THE LAST MAN TP VOL 04 SAFEWORD (MR)

$12.99

DC

505

231

0.49

BATMAN YEAR ONE DELUXE SC

$14.99

DC

505

232

0.49

BOYS TP VOL 02 GET SOME (MR)

$19.99

DE

505

233

0.49

PREACHER TP VOL 02 UNTIL THE END OF THE WORLD NEW EDITION

$14.99

DC

505

234

0.49

BTVS SEASON 8 TP VOL 01 LONG WAY HOME

$15.95

DAR

505

235

0.49

FX TP

$19.99

IDW

505

236

0.49

CRIMINAL TP VOL 01 COWARD (MR)

$14.99

MAR

505

237

0.48

FABLES TP VOL 10 THE GOOD PRINCE (MR)

$17.99

DC

495

238

0.48

100 BULLETS TP VOL 12 DIRTY (MR)

$12.99

DC

495

239

0.48

WALKING DEAD TP VOL 05 BEST DEFENSE (MR)

$12.99

IMA

495

240

0.48

KINGDOM COME TP NEW EDITION

$17.99

DC

495

241

0.48

HELLSING TP VOL 09

$13.95

DAR

495

242

0.47

DARK TOWER GUNSLINGER BORN PREM HC

$24.99

MAR

485

243

0.47

BLOOD BOWL KILLER CONTRACT TP VOL 01

$16.99

BOO

485

244

0.47

Y THE LAST MAN TP VOL 06 GIRL ON GIRL (MR)

$12.99

DC

485

245

0.47

SPIDER-MAN TP A NEW GOBLIN

$12.99

MAR

485

246

0.46

SANDMAN TP VOL 02 THE DOLLS HOUSE

$19.99

DC

474

247

0.46

BTVS SEASON 8 TP VOL 02 NO FUTURE FOR YOU

$15.95

DAR

474

248

0.46

LA MUSE GN (MR)

$19.95

BIG

474

249

0.46

SUPERMAN RED SON TP

$17.99

DC

474

250

0.46

BOYS TP VOL 01 (MR)

$16.99

DE

474

251

0.46

ALL STAR BATMAN & ROBIN BOY WONDER HC VOL 01

$24.99

DC

474

252

0.46

LOEG BLACK DOSSIER TP

$19.99

DC

474

253

0.45

HIGURASHI WHEN THEY CRY GN VOL 01

$10.99

HAC

464

254

0.45

CAPABLE MAN GN (A)

$12.99

TKP

464

255

0.45

JACK AND THE BOX GN

$12.95

RAW

464

256

0.45

DOROTHY OF OZ GN VOL 04

$11.95

UDO

464

257

0.45

TEDDY SCARES GN VOL 04

$6.95

APE

464

258

0.44

BEST O/VAMPIRELLA TP VOL 02 MODERN MASTERPIECES

$24.95

HAR

454

259

0.44

FABLES TP VOL 03 STORYBOOK LOVE (MR)

$14.99

DC

454

260

0.44

Y THE LAST MAN TP VOL 09 MOTHERLAND (MR)