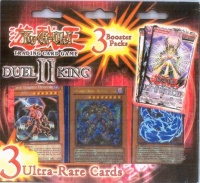 In October Konami Digital Entertainment Corporation filed suit in the United States District Court for Central California charging Vintage Sports Cards of Conroy Texas with selling re-packaged Yu-Gi-Oh! Trading Cards in packages that contain counterfeit Yu-Gi-Oh! "rare cards." Konami introduced sample packages of repackaged Yu-Gi-Oh! cards distributed by Vintage Sports Cards that were purchased at Toys R Us stores in the Los Angeles area, and which contained counterfeit Yu-Gi-Oh! rare cards with counterfeit Konami trademarks.
The packaging of the re-packaged Yu-Gi-Oh! cards indicated that they were "packaged and distributed by Vintage Sports Cards," and that the package contains "3 Ultra-Rare Cards." The counterfeit "rare" cards, which are clearly visible in the Vintage Sports packaging, use a different paper type and protective varnish than those used in real Yu-Gi-Oh! cards and the holographic security foil also differs from that used on the real Konami cards.
Counterfeiting of trading cards is hardly new. Back in 2005, when the Yu-Gi-Oh! game was white hot, U.S. customs seized 350 cases of fake Yu-Gi-Oh! cards (see "350 Cases of Fake Yu-Gi-Oh! Cards Seized in L.A."), and Pokemon U.S.A. has seized 47 million fake Pokemon cards over the past two years (see "47 Million Counterfeit Pokemon Cards"). But the Vintage Sports Cards case presents a new wrinkle, which is based on the aftermarket value of rare cards, which are often extremely powerful in the context of the card game and are deliberately manufactured in minute quantities in order to get customers to "chase" after them. In this case it was only the "rare" "chase" cards that are counterfeit, and they are packaged along with 3 booster packs of authentic Yu-Gi-Oh! cards.