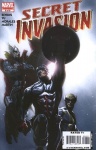 These are estimates of the sales by Diamond U.S. to comic specialty stores during December 2008.
For an overview and analysis of comic sales in December, see "'Secret Invasion' Finishes on Top."
For an analysis of the dollar trends in December, see "Comics Have a Strong December

."
For our estimates of actual sales by Diamond
U.S.
from comic specialty stores on graphic novels shipped during December, see "
Top 300 Graphic Novels Actual--December 2008
."
TOP 300 COMICS -- December 2008

Rank

Index

Title

Price

Pub

Est.Qty

1

163.1

SECRET INVASION #8 (Of 8) SI*

$3.99

MAR

152,429

2

116.8

FINAL CRISIS #5 (Of 7)

$3.99

DC

109,181

3

110.1

SECRET INVASION DARK REIGN DKR*

$3.99

MAR

102,928

4

102.4

NEW AVENGERS #47 SI

$2.99

MAR

95,703

5

100.5

NEW AVENGERS #48 DKR

$2.99

MAR

93,908

6

100

BATMAN #682*

$2.99

DC

93,469

7

96.58

BATMAN #683*

$2.99

DC

90,272

8

93.92

HULK #9*

$2.99

MAR

87,786

9

92.1

MIGHTY AVENGERS #20 DKR

$2.99

MAR

86,085

10

91.61

ULTIMATUM #2 (Of 5)*

$3.99

MAR

85,627

11

89.18

WOLVERINE #70

$2.99

MAR

83,356

12

88.02

UNCANNY X-MEN #505 MD*

$2.99

MAR

82,271

13

85.54

BATMAN #684*

$2.99

DC

79,953

14

81.1

JUSTICE LEAGUE O/AMERICA #27 SIGHTINGS

$2.99

DC

75,803

15

78.94

THOR #12

$2.99

MAR

73,784

16

77.81

JUSTICE LEAGUE O/AMERICA #28

$2.99

DC

72,728

17

76.92

BUFFY THE VAMPIRE SLAYER #20*

$2.99

DAR

71,896

18

76.16

CAPTAIN AMERICA #45*

$2.99

MAR

71,186

19

74.66

AMAZING SPIDER-MAN #579*

$2.99

MAR

69,784

20

74.53

JUSTICE SOCIETY O/AMERICA #21*

$2.99

DC

69,662

21

73.72

AMAZING SPIDER-MAN #581*

$2.99

MAR

68,905

22

73.27

DARK REIGN NEW NATION DKR

$3.99

MAR

68,485

23

72.34

JUSTICE SOCIETY O/AMERICA #22*

$2.99

DC

67,615

24

69.5

DETECTIVE COMICS #851*

$2.99

DC

64,961

25

69.28

GREEN LANTERN #36 (RES)

$2.99

DC

64,755

26

67.9

SECRET INVASION REQUIEM #1 DKR

$3.99

MAR

63,465

27

67.38

AMAZING SPIDER-MAN #580

$2.99

MAR

62,979

28

64.82

X-MEN LEGACY #219

$2.99

MAR

60,587

29

62.91

X-FORCE #10*

$2.99

MAR

58,801

30

61.92

ASTONISHING X-MEN GHOST BOXES #2 (Of 2)

$3.99

MAR

57,876

31

61.17

ACTION COMICS #872 NEW KRYPTON*

$2.99

DC

57,175

32

60.67

INVINCIBLE IRON MAN #8 DKR*

$2.99

MAR

56,708

33

59.59

BATMAN CACOPHONY #2 (Of 3)*

$3.99

DC

55,698

34

59.15

SUPERMAN #683 NEW KRYPTON*

$2.99

DC

55,287

35

57.84

FANTASTIC FOUR #562

$2.99

MAR

54,062

36

57.49

DARK TOWER TREACHERY #4 (Of 6)*

$3.99

MAR

53,735

37

56.23

AVENGERS INITIATIVE #19 SI

$2.99

MAR

52,558

38

55.84

AVENGERS INVADERS #7 (Of 12)*

$2.99

MAR

52,193

39

54.81

AVENGERS INITIATIVE #20 DKR

$2.99

MAR

51,230

40

54.64

ULTIMATE SPIDER-MAN #129

$2.99

MAR

51,071

41

54.06

KICK ASS #5 (MR)

$2.99

MAR

50,529

42

53.48

FINAL CRISIS REVELATIONS #4 (Of 5)

$3.99

DC

49,987

43

53.23

WAR MACHINE #1 DKR*

$2.99

MAR

49,754

44

52.72

FINAL CRISIS SECRET FILES #1

$3.99

DC

49,277

45

52.65

STAND CAPTAIN TRIPS #4 (Of 5)*

$3.99

MAR

49,211

46

51.8

X-INFERNUS #1 (Of 4)*

$3.99

MAR

48,417

47

50.13

DEADPOOL #5

$2.99

MAR

46,856

48

49.18

SUPERMAN BATMAN #54

$2.99

DC

45,968

49

48.67

SUPERGIRL #36 NEW KRYPTON*

$2.99

DC

45,491

50

48.19

WOLVERINE ORIGINS #31

$2.99

MAR

45,043

51

47.46

ULTIMATE X-MEN #99

$2.99

MAR

44,360

52

47.45

DAREDEVIL #114*

$2.99

MAR

44,351

53

47.11

GREEN LANTERN CORPS #31

$2.99

DC

44,033

54

46.41

ULTIMATE HULK ANNUAL #1

$3.99

MAR

43,379

55

44.76

MARVEL ZOMBIES 3 #3 (Of 4)

$3.99

MAR

41,837

56

44.64

TRINITY #27

$2.99

DC

41,725

57

44.41

TRINITY #28

$2.99

DC

41,510

58

43.74

TRINITY #29

$2.99

DC

40,883

59

43.62

TRINITY #30

$2.99

DC

40,771

60

43.41

TRINITY #31

$2.99

DC

40,575

61

41.89

TITANS #8

$2.99

DC

39,154

62

41.44

THOR GOD SIZED #1

$3.99

MAR

38,734

63

40.63

MARVELS EYE O/CAMERA #1 (Of 6)*

$3.99

MAR

37,976

64

40.28

ANGEL AFTER THE FALL #15

$3.99

IDW

37,649

65

39.43

INCREDIBLE HERCULES #124*

$2.99

MAR

36,855

66

39.38

TEEN TITANS #66

$2.99

DC

36,808

67

38.97

PUNISHER WAR ZONE #1 (Of 6)*

$3.99

MAR

36,425

68

38.93

X-MEN KINGBREAKER #1 (Of 4)

$3.99

MAR

36,387

69

38.92

THUNDERBOLTS #127*

$2.99

MAR

36,378

70

37.67

NIGHTWING #151

$2.99

DC

35,210

71

37.01

SKAAR SON OF HULK #6*

$2.99

MAR

34,593

72

36.94

CABLE #9

$2.99

MAR

34,527

73

36.83

X-FACTOR #38

$2.99

MAR

34,425

74

36.39

ULTIMATE FANTASTIC FOUR #59

$2.99

MAR

34,013

75

35.92

WOLVERINE MANIFEST DESTINY #2 (Of 4) MD

$2.99

MAR

33,574

76

35.44

X-MEN NOIR #1 (Of 4)*

$3.99

MAR

33,125

77

34.84

X-MEN MANIFEST DESTINY #4 (Of 5) MD

$3.99

MAR

32,565

78

34.78

SECRET INVASION FRONT LINE #5 (Of 5) SI

$2.99

MAR

32,509

79

34.58

WONDER WOMAN #27*

$2.99

DC

32,322

80

34.41

BATMAN AND THE OUTSIDERS #14

$2.99

DC

32,163

81

34.22

SPIDER-MAN NOIR #1 (Of 4)*

$3.99

MAR

31,985

82

33.77

GUARDIANS O/GALAXY #8*

$2.99

MAR

31,564

83

33.03

WHAT IF CAPTAIN AMERICA FALLEN SON

$2.99

MAR

30,873

84

32.64

YOUNG X-MEN #9 MD*

$2.99

MAR

30,508

85

31.85

MS MARVEL #34 DKR

$2.99

MAR

29,770

86

31.82

PUNISHER WAR ZONE #2 (Of 6)

$3.99

MAR

29,742

87

31.46

NOVA #20*

$2.99

MAR

29,405

88

31.28

WOLVERINE MANIFEST DESTINY #3 (Of 4) MD

$2.99

MAR

29,237

89

30.41

PUNISHER WAR ZONE #3 (Of 6)

$3.99

MAR

28,424

90

29.84

ROBIN #181

$2.99

DC

27,891

91

29.3

STAR WARS LEGACY #31 VECTOR PART 12 O/12

$2.99

DAR

27,386

92

29.26

PUNISHER WAR ZONE #4 (Of 6)

$3.99

MAR

27,349

93

29.25

WHAT IF SECRET WARS

$3.99

MAR

27,340

94

29.16

MARVELS EYE O/CAMERA #2 (Of 6)*

$3.99

MAR

27,256

95

29.13

WHAT IF SPIDER-MAN BACK IN BLACK

$2.99

MAR

27,228

96

29.03

BOYS #25 (MR)

$2.99

DE

27,134

97

28.71

BOOSTER GOLD #15

$2.99

DC

26,835

98

28.65

WHAT IF HOUSE OF M

$3.99

MAR

26,779

99

28.35

FLASH #247

$2.99

DC

26,498

100

27.36

X-MEN SPIDER-MAN #2 (Of 4)

$3.99

MAR

25,573

101

27.29

GHOST RIDER #30*

$2.99

MAR

25,508

102

27.17

UMBRELLA ACADEMY DALLAS #2

$2.99

DAR

25,396

103

26.8

BRAVE & BOLD #20

$2.99

DC

25,050

104

26.71

IMMORTAL IRON FIST #20

$2.99

MAR

24,966

105

26.69

HELLBOY WILD HUNT #1 (Of 8)

$2.99

DAR

24,947

106

26.38

SECRET SIX #4

$2.99

DC

24,657

107

26.24

GREEN ARROW BLACK CANARY #15

$2.99

DC

24,526

108

26.18

WHAT IF NEWER FANTASTIC FOUR

$3.99

MAR

24,470

109

25.82

IMMORTAL IRON FIST #21

$2.99

MAR

24,134

110

25.74

TERROR TITANS #3 (Of 6)

$2.99

DC

24,059

111

25.71

SANDMAN DREAM HUNTERS #2 (Of 4) (MR)

$2.99

DC

24,031

112

25.6

X-MEN WORLDS APART #3 (Of 4)

$3.99

MAR

23,928

113

25.55

PUNISHER MAX #65 (MR)

$2.99

MAR

23,881

114

25.23

WALKING DEAD #56 (RES) (MR)

$2.99

IMA

23,582

115

24.91

MOON KNIGHT #25

$2.99

MAR

23,283

116

24.68

VENOM DARK ORIGIN #5 (Of 5)

$2.99

MAR

23,068

117

24.36

FABLES #79 (MR)

$2.99

DC

22,769

118

24.15

CIVIL WAR HOUSE OF M #4 (Of 5)

$2.99

MAR

22,573

119

24.14

ANGEL SMILE TIME #1

$3.99

IDW

22,563

120

24.1

CONAN THE CIMMERIAN #6

$2.99

DAR

22,526

121

23.99

PUNISHER WAR JOURNAL #26

$2.99

MAR

22,423

122

23.73

LEGION O/SUPER HEROES #49

$2.99

DC

22,180

123

23.69

SPAWN #187

$2.95

IMA

22,143

124

23.59

X-MEN MAGNETO TESTAMENT #4 (Of 5)

$3.99

MAR

22,049

125

23.52

CAPTAIN AMERICA THEATER O/WAR AMERICA FIRST

$4.99

MAR

21,984

126

23.45

RUNAWAYS 3 #5

$2.99

MAR

21,918

127

23.42

WOLVERINE FLIES TO A SPIDER

$3.99

MAR

21,890

128

22.97

BATMAN CONFIDENTIAL #24

$2.99

DC

21,470

129

22.73

PUNISHER MAX X-MAS SPECIAL 2008 (MR)*

$3.99

MAR

21,246

130

22.72

CAPTAIN BRITAIN & MI 13 #8*

$2.99

MAR

21,236

131

22.44

WATCHMEN #1 NEW PTG

$1.50

DC

20,974

132

22.2

BATGIRL #6 (Of 6)

$2.99

DC

20,750

133

21.97

WONDERFUL WIZARD OF OZ #1 (Of 8)*

$3.99

MAR

20,535

134

21.78

BLACK TERROR #2*

$3.50

DE

20,358

135

21.57

BIRDS OF PREY #125

$2.99

DC

20,161

136

21.25

IRON MAN HULK FURY ONE SHOT

$3.99

MAR

19,862

137

21.2

SHE-HULK 2 #36

$2.99

MAR

19,815

138

20.86

NEW EXILES #15

$2.99

MAR

19,498

139

20.78

STAR WARS KNIGHTS O/OLD REPUBLIC #36 PROPHET MOTIVE PART 1

$2.99

DAR

19,423

140

20.75

DEATH DEFYING DEVIL #1*

$3.50

DE

19,395

141

20.63

INCOGNITO #1 (MR)

$3.50

MAR

19,283

142

20.57

NEW EXILES #16

$2.99

MAR

19,227

143

20.27

SQUADRON SUPREME 2 #6

$2.99

MAR

18,946

144

19.89

HULK FAMILY GREEN GENES #1

$4.99

MAR

18,591

145

19.51

VIGILANTE #1*

$2.99

DC

18,236

146

19.4

ETERNALS #6

$2.99

MAR

18,133

147

19.22

SUPERMAN BATMAN VS VAMPIRES WEREWOLVES #5 (Of 6)

$2.99

DC

17,965

148

19.13

FANTASTIC FOUR COSMIC SPECIAL

$4.99

MAR

17,881

149

19.06

SUPERMAN SUPERGIRL MAELSTROM #3 (Of 5)

$2.99

DC

17,815

150

18.88

MOON KNIGHT SILENT KNIGHT #1

$3.99

MAR

17,647

151

18.75

SGT ROCK THE LOST BATTALION #2 (Of 6)

$2.99

DC

17,525

152

18.56

STAR WARS CLONE WARS #3 (Of 6)

$2.99

DAR

17,348

153

18.48

SUPERMAN BATMAN VS VAMPIRES WEREWOLVES #6 (Of 6)

$2.99

DC

17,273

154

18.44

NEW EXILES ANNUAL #1

$3.99

MAR

17,236

155

18.44

BATMAN GOTHAM AFTER MIDNIGHT #8 (Of 12)

$2.99

DC

17,236

156

18.34

GHOST RIDER DANNY KETCH #3 (Of 5)

$3.99

MAR

17,142

157

18.22

TANGENT SUPERMANS REIGN #10 (Of 12)

$2.99

DC

17,030

158

18.1

SUPERMAN SUPERGIRL MAELSTROM #4 (Of 5)

$2.99

DC

16,918

159

18.04

WEAPON X FIRST CLASS #2 (Of 3)

$3.99

MAR

16,862

160

17.76

RANN THANAGAR HOLY WAR #8 (Of 8)

$3.50

DC

16,600

161

17.18

WORLD OF WARCRAFT #14

$2.99

DC

16,058

162

17.17

SHE HULK COSMIC COLLISION

$3.99

MAR

16,049

163

17.14

HAUNTED TANK #1 (Of 5) (MR)*

$2.99

DC

16,021

164

16.93

NEW WARRIORS #19

$2.99

MAR

15,824

165

16.8

DCU HOLIDAY SPECIAL 2008

$5.99

DC

15,703

166

16.76

ANITA BLAKE VH LAUGHING CORPSE #3 (Of 5) (MR)

$3.99

MAR

15,665

167

16.67

TERRA #3 (Of 4)

$2.99

DC

15,581

168

16.45

AMAZING SPIDER-GIRL #27*

$2.99

MAR

15,376

169

16.34

BPRD WAR ON FROGS #2

$2.99

DAR

15,273

170

16.21

ENDERS SHADOW BATTLE SCHOOL #1 (Of 5)*

$3.99

MAR

15,151

171

15.99

TERRA #4 (Of 4)

$2.99

DC

14,946

172

15.89

INVINCIBLE #56

$2.99

IMA

14,852

173

15.73

CRIMINAL 2 #7 (MR)

$3.50

MAR

14,703

174

15.62

INVINCIBLE #57

$2.99

IMA

14,600

175

15.41

WORLD OF WARCRAFT ASHBRINGER #3 (Of 4)*

$3.99

DC

14,404

176

15.38

FATHOM #4

$2.99

ASP

14,376

177

15.27

HOUSE OF MYSTERY #8 (MR)

$2.99

DC

14,273

178

15.14

JACK OF FABLES #29 (MR)

$2.99

DC

14,151

179

15.05

EX MACHINA #40 (MR)

$2.99

DC

14,067

180

14.46

RED SONJA #40

$2.99

DE

13,516

181

14.38

WOLVERINE FIRST CLASS #10

$2.99

MAR

13,441

182

14.24

NYX NO WAY HOME #4 (Of 6)

$3.99

MAR

13,310

183

14.02

KULL #2 (Of 6)

$2.99

DAR

13,104

184

13.9

WITCHBLADE #122

$2.99

IMA

12,992

185

13.85

REIGN IN HELL #6 (Of 8)

$3.50

DC

12,945

186

13.74

DARKNESS #72 (MR)*

$2.99

IMA

12,843

187

13.67

FARSCAPE #1

$3.99

BOO

12,777

188

13.35

HELLBLAZER #250

$3.99

DC

12,478

189

13.29

BROKEN TRINITY WITCHBLADE (ONE SHOT)*

$2.99

IMA

12,422

190

13.13

DARKNESS #73 (MR)*

$2.99

IMA

12,272

191

13.01

ADAM LEGEND O/BLUE MARVEL #2 (Of 5)

$3.99

MAR

12,160

192

12.98

JONAH HEX #38

$2.99

DC

12,132

193

12.94

GEARS OF WAR #3 (MR)

$3.99

DC

12,095

194

12.87

TERRY MOORES ECHO #8

$3.50

ABS

12,029

195

12.86

INDIANA JONES & TOMB O/GODS #3 (Of 4)

$2.99

DAR

12,020

196

12.83

CROSSED #2 (Of 9) (MR)*

$3.99

AVA

11,992

197

12.67

TRANSFORMERS ALL HAIL MEGATRON #6

$3.99

IDW

11,843

198

12.37

X-FILES #2 (Of 6)

$3.50

DC

11,562

199

12.36

TRANSFORMERS REVENGE FALLEN MOVIE PREQ ALLIANCE #1

$3.99

IDW

11,553

200

12.34

AUTHORITY #5

$2.99

DC

11,534

201

12.32

LONE RANGER #16 (MR)

$3.50

DE

11,515

202

12.31

BATMAN #681 RIP*

$3.99

DC

11,506

203

12.29

TOP 10 SEASON TWO #3 (Of 4)

$2.99

DC

11,487

204

12.22

AMBUSH BUG YEAR NONE #5 (Of 6)

$2.99

DC

11,422

205

12.04

SOLOMON KANE #3 (Of 5)

$2.99

DAR

11,254

206

11.79

BLUE BEETLE #34

$2.99

DC

11,020

207

11.56

MARVEL APES #0

$3.99

MAR

10,805

208

11.25

100 BULLETS #98 (MR)

$2.99

DC

10,515

209

11.18

WILDCATS #6

$2.99

DC

10,450

210

10.99

DARKNESS LODBROKS HAND (ONE SHOT)*

$2.99

IMA

10,272

211

10.99

MADAME XANADU #7 (MR)

$2.99

DC

10,272

212

10.98

MANHUNTER #37

$2.99

DC

10,263

213

10.93

SOULFIRE SHADOW MAGIC #1 (Of 5)*

$2.99

ASP

10,216

214

10.93

BEYOND WONDERLAND #4 (Of 6)*

$2.99

ZEN

10,216

215

10.89

DOCTOR WHO FORGOTTEN #4

$3.99

IDW

10,179

216

10.75

SPIRIT #24

$2.99

DC

10,048

217

10.68

JUNGLE GIRL SEASON 2 #2*

$3.50

DE

9,982

218

10.62

UNKNOWN SOLDIER #3 (MR)

$2.99

DC

9,926

219

10.54

BILLY BATSON & MAGIC O/SHAZAM #3

$2.50

DC

9,852

220

10.46

AGE OF SENTRY #4 (Of 6)

$2.99

MAR

9,777

221

10.46

NORTHLANDERS #13 (MR)

$2.99

DC

9,777

222

10.44

30 DAYS OF NIGHT 30 DAYS TIL DEATH #1

$3.99

IDW

9,758

223

10.42

DOCTOR WHO FORGOTTEN #5

$3.99

IDW

9,739

224

10.42

VIXEN RETURN O/LION #3 (Of 5)

$2.99

DC

9,739

225

10.26

GRIMM FAIRY TALES #33

$2.99

ZEN

9,590

226

10.14

TRANSFORMERS MAXIMUM DINOBOTS #1

$3.99

IDW

9,478

227

9.93

SUPERGIRL COSMIC ADVENTURES I/8TH GRADE #1

$2.50

DC

9,281

228

9.72

TINY TITANS #11

$2.50

DC

9,085

229

9.71

SIMON DARK #15

$2.99

DC

9,076

230

9.66

ZORRO #9*

$3.50

DE

9,029

231

9.58

GEN 13 #25

$2.99

DC

8,954

232

9.56

GOON #31

$2.99

DAR

8,936

233

9.44

DMZ #37 (MR)

$2.99

DC

8,823

234

9.34

SWORD #13 (MR)

$2.99

IMA

8,730

235

9.26

TERMINATOR REVOLUTION #1*

$3.50

DE

8,655

236

9.23

PATSY WALKER HELLCAT #4 (Of 5)

$2.99

MAR

8,627

237

9.23

SAMURAI LEGEND #4 (Of 4) (MR)

$5.99

MAR

8,627

238

9.03

ASTOUNDING WOLF-MAN #11 (RES)

$2.99

IMA

8,440

239

9

AIR #5 (MR)

$2.99

DC

8,412

240

9

GRIMM FAIRY TALES ANNUAL 2008

$5.99

ZEN

8,412

241

8.98

BACK TO BROOKLYN #3 (Of 5) (MR)

$2.99

IMA

8,394

242

8.9

ARMY OF DARKNESS #15

$3.50

DE

8,319

243

8.87

ASTOUNDING WOLF-MAN #10

$2.99

IMA

8,291

244

8.65

MARVEL SPOTLIGHT SECRET INVASION AFTERMATH

$2.99

MAR

8,085

245

8.51

STREET FIGHTER II TURBO #3*

$3.95

UDO

7,954

246

8.43

SIMPSONS COMICS #149

$2.99

BON

7,879

247

8.34

YTHAQ FORSAKEN WORLD #1 (Of 3) (MR)*

$5.99

MAR

7,795

248

8.25

AMAZING SPIDER-MAN FAMILY #3

$4.99

MAR

7,711

249

8.19

STAR TREK LAST GENERATION #2

$3.99

IDW

7,655

250

7.98

SPIDER-MAN LOVES MARY JANE SEASON 2 #5 (Of 5)

$2.99

MAR

7,459

251

7.92

WAR THAT TIME FORGOT #8 (Of 12)

$2.99

DC

7,403

252

7.91

XENA VS ARMY OF DARKNESS WHAT AGAIN #2

$3.50

DE

7,393

253

7.89

MOUSE GUARD WINTER 1152 #4 (Of 6)

$3.50

ARS

7,375

254

7.65

MADMAN ATOMIC COMICS #12

$3.50

IMA

7,150

255

7.64

IMPALER #1*

$2.99

IMA

7,141

256

7.54

MAN WITH NO NAME #6

$3.50

DE

7,048

257

7.53

GHOSTBUSTERS THE OTHER SIDE #3

$3.99

IDW

7,038

258

7.46

30 DAYS OF NIGHT 30 DAYS TIL DEATH #2

$3.99

IDW

6,973

259

7.45

SONIC THE HEDGEHOG #195

$2.25

ARC

6,963

260

7.43

DOKTOR SLEEPLESS #10 (MR)*

$3.99

AVA

6,945

261

7.25

SCALPED #24 (MR)

$2.99

DC

6,777

262

7.15

CYBLADE #2

$2.99

IMA

6,683

263

7.11

YOUNG LIARS #10 (MR)

$2.99

DC

6,646

264

6.98

SPIDER-MAN BRAND NEW DAY YEARBOOK

$4.99

MAR

6,524

265

6.92

STORMWATCH PHD #17

$2.99

DC

6,468

266

6.81

DEAD OF NIGHT DEVIL SLAYER #4 (Of 4) (MR)

$3.99

MAR

6,365

267

6.61

PRESIDENTIAL MATERIAL BARACK OBAMA*

$3.99

IDW

6,178

268

6.57

HACK SLASH SERIES #18*