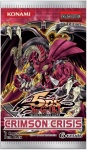 Konami Digital Entertainment has announced that it will hold hobby store sneak peek events for
Crimson Crisis
, the next booster set for the
Yu-Gi-Oh! TCG
, on the weekend of February 28th and March 1st, followed by a release date of March 3rd for
Crimson Crisis
Boosters
.
Konami is offering sneak peek event kits directly to hobby stores, each of which will contain support for sixteen players: 96 packs (five packs to build with and one extra for participating for each player), 16 Duelist participation cards (Colossal Fighter/Assault Mode promo card), four foldable deck boxes (two for top players, and two for random giveaways) and thank you letters and instruction sheets. The Crimson Crisis booster packs will be sold to hobby retailers by distributors.
The Crimson Crisis set is a 100-card set with 48 commons (8:1), 20 Rares (1:1), 14 Super Rares (1:5) and 10 Ultra Rares (1:12). The set "…introduces new cards used by Yusei, Jack and Aki in addition to the mega powerful Assault Mode monsters," according to Yumi Hoashi, Vice President of Card Business for KDE, along with "a Red Dragon Archfield/Assault Mode card which allows Duelists to upgrade their decks to the more powerful assault mode."
Upper Deck recently announced that it would not be releasing Crimson Crisis as a result of its dispute with Konami (see "No YGO Crimson Crisis"), which announced that it is terminating its relationship with Upper Deck. The news that product will be flowing again is good news for retailers; Yu-Gi-Oh! is the #2 CCG brand over-all (see "Top Fall 2008 CCGs"). Konami's Crimson Crisis release may have been delayed by the need to develop new packaging in the wake of the company's split with Upper Deck.
The March 3rd street date applies to both hobby and mass retailers, and will also apply to release outside the U.S.
Konami plans full organized play support for the Yu-Gi-Oh! TCG.