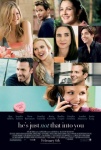 The star-studded romantic comedy He's Just Not That Into You topped the weekend box office with an estimated total of $27.5 million. Promoted as a date movie, Into You was not a four-quadrant hit--80% of the audience was female and 60% was over 25--but with Valentine's Day coming don't expect this lovestruck comedy to fade quickly. In spite of mediocre reviews (43% positive on Rotten Tomatoes), He's Just Not That Into You scored a solid B+ Cinemascore with opening weekend audiences.


Weekend Box Office (Studio Estimates): February 6-8, 2009

| | | | | |
| --- | --- | --- | --- | --- |
| Rank | Film | Weekend Gross | Screens | Avg./Screen |
| 1 | He's Just Not That Into You | $27,465,000 | 3,175 | $3,175 |
| 2 | Taken | $20,300,000 | 3,184 | $6,376 |
| 3 | Coraline | $16,335,000 | 2,299 | $7,105 |
| 4 | The Pink Panther 2 | $12,000,000 | 3,243 | $3,700 |
| 5 | Paul Blart: Mall Cop | $11,000,000 | 3,169 | $3,471 |
| 6 | Push | $10,204,000 | 2,313 | $4,412 |
| 7 | Gran Torino | $7,420,000 | 2,705 | $2,743 |
| 8 | Slumdog Millionaire | $7,400,000 | 1,724 | $4,292 |
| 9 | The Uninvited | $6,400,000 | 2,344 | $2,730 |
| 10 | Hotel for Dogs | $5,820,000 | 2,734 | $2,129 |
The international kidnapping thriller Taken declined only 18% from its chart-topping debut last weekend and finished a solid second with an estimated total of $20.3 million.
Director Henry Selick's stop motion adaptation of Neil Gaiman's Coraline finished at #3 with the second highest per theater average ($7,105) in the top ten. With an 87% positive rating from the critics tabulated by Rotten Tomatoes, Coraline has a chance for a solid run over the next few weeks, especially with the President's Day weekend and winter school breaks providing even more opportunities for the movies target audience to get to theaters--and this offbeat saga with its "beware what you wish for message" and its elaborate gothic visual style should certainly appeal to the older Nightmare Before Christmas audience as well. Coraline's strong $16.7 million opening also bodes well for the 3D format--only 44% of the Coraline's screenings were in 3D, but they generated 70% of the movie's box office total.
The one disappointment of a weekend in which Hollywood took in an impressive 36% more than it did during the same frame of 2008 was Sony's The Pink Panther 2, which debuted with an estimated $12.2 million, well below the more than $20 million that Steve Martin's first Inspector Clousseau effort brought it. In fact The Pink Panther 2's opening barely beat out the fourth frame performance of Kevin James' Paul Blart Mall Cop, which declined a mere 20.7% and earned an estimated $11 million.
Summit's Push, the action-packed science fiction saga about a group of attractive young individuals with special powers, which inspired a prequel comic book series from Wildstorm, finish in sixth place well ahead of most analysts' projections.
Underworld: Rise of the Lycans slipped out of the top ten and finished at #11 during its third weekend of release, which considering the number of strong new debuts and potent holdovers, is not such a bad performance, especially since the film has brought in nearly $40 million so far.