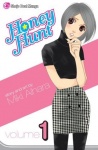 Honey Hunt Vol. 1 (Manga)
VIZ Media
Author: Miki Aihara
Release Date: April 2009
$8.99
192 pages
ISBN: 9781421523477
Rating: T+
ICv2 Rating: 3 Stars out of 5
High school senior Yura is the daughter of two extremely famous celebrities. Her father is an award winning musician and composer living in New York, and her mother is an internationally famous actress. Together they are celebrated by the press as a perfect couple and model parents. Yura knows it's all an act, but is still taken by surprise when her self-centered mother arrives home and announces she is divorcing Yura's father, and since Yura is old enough to take care of herself, she doesn't care what Yura does now. When Yura's father's manager offers to represent her as an actress, she is reluctant to agree. But having been told her entire life that she will never live up to the standards set by her parents, she is determined to prove her worth to her mother, and takes him up on his offer. In the process of going to parties and auditions, Yura meets two handsome teen idols, twin musicians who are fiercely competitive with each other. They both appear to be attracted to Yura, but are they attracted to her or to who her parents are?
The trouble with writing a review of the first volume of a multi-volume manga series is that volume one is very often a set up for the rest of the story. This is clearly the case with Honey Hunt, by Miki Aihara. With Honey Hunt, Aihara has taken a handful of typical shojo clichés, mashed them all together, combined them with detailed artwork depicting pretty boys and a wide-eyed naïve heroine, and put in enough twists and surprises to pique the interest of teen readers. All in all, though, there isn't anything here that you wouldn't find in any average to above average shojo manga.
But experience tells me it is probably too early to commit to giving this book a so-so review. Mangaka of Hot Gimmick and the unlicensed Teacher's Pet, Aihara's stories always involve some sort of emotional train wreck from which it is difficult to look away. Her meek heroines offend me on several different feminist levels and the abusive situations in which she places her female characters serve as warnings rather than as examples of what relationships should be. And yet her stories are incredibly addicting, the way the best soap operas are. I suspect this will turn out to be the case with Honey Hunt, too. So while I can't call volume one a powerhouse introduction, it is an effective set-up for the series and I'll be looking for volume two to see where the story goes.
-- Eva Volin