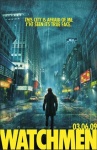 Watchmen rolls though its opening week with a declining review tally and signs of a big weekend ahead. Watchmen will open on a record number of screens for a R film, according to Hollywood Reporter, 3611 vs. 3603 for Matrix Reloaded, currently the widest-opening R film.
Ticket sales for Watchmen are running ahead of those for director Zack Snyder's 300 by a four to one margin, according to Variety, with Imax accounting for a third of all sales. Watchmen will screen at 124 Imax locations this weekend, all of which will kick off with midnight Thursday shows.
Imax President Greg Foster told the Reporter that the Imax Website crashed four times this week from Watchmen-related traffic.
Matrix Reloaded holds the record for the biggest opening day and opening weekend for an R film, so that will be the comparison to watch this weekend.
The review count for Watchmen is mounting at Rotten Tomatoes, but the percentage of good reviews is slipping, down to 63% as of this writing from 81% earlier this week (see "Watching the Watchmen Reviews").