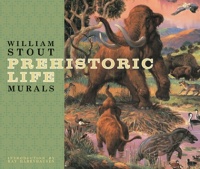 Flesk Publications has announced the publication of a hardcover collection reproducing images of murals created by famed "dinosaur artist" William Stout for the Houston Museum of Natural Science, Walt Disney World's Animal Kingdom, and the San Diego Natural History Museum. William Stout: Prehistoric Life Murals ($39.95, ISBN 978-1-933865-10-2) is an oversize (10" x 12"), 144-page, full color hardcover that is also available in a limited signed edition ($49.95 ISBN 978-1-933865-11-9).
Following in the grand tradition of masters of "paleoart" such as Charles R. Knight and Rudolph F. Salinger, Stout's murals are collaborative efforts with scientists, sculptors, craftspeople, and museum personnel. They reflect the latest paleontological evidence, and are, in the words of the artist, "one of the scientists' conduits to the public-- artists can translate difficult scientific concepts into powerful, easy-to-grasp visuals for the public. Murals can function as a great teaching tool." Stout even incorporates local landmarks such as San Diego's Cuyamaca Peak into his prehistoric murals in order to change the way people see their familiar surroundings.
Hollywood filmmaker and special effects maestro Ray Harryhausen provides the introduction to this volume, which is certainly appropriate considering Stout's contributions to films such as Raiders of the Lost Ark, Jurassic Park, The Land Before Time, Men in Black, The Prestige, The Mist and Pan's Labyrinth. In addition to his movie work Stout also has a background in comics—he assisted Russ Manning on the Tarzan newspaper strip, worked with Will Elder and Harvey Kurtzman on Little Annie Fannie, and was one of the first American contributors to Heavy Metal magazine.