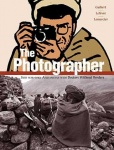 The Photographer: Into War-Torn Afghanistan With Doctors Without Borders
First Second
Creators: Didier Lefevre, Emmanuel Guibert, and Frederic Lemercier
Release Date: May 12, 2009
$29.95
288 pages, Color, 12" x 9"
ISBN: 978-1-59643-375-5
Age Rating: Not Rated
ICv2 Rating: 5 out of 5 Stars
The Photographer
is a documentary graphic novel chronicling the adventures of French photographer Didier Lefevre, who journeyed into war-torn Afghanistan in 1986 during the height of the resistance to the Russian invasion. Lefevre accompanied a team of doctors from Medecins Sans Frontieres (Doctors Without Borders) on the difficult journey to establish a hospital in a remote valley in Northern Afghanistan not far from the fighting. Lefevre's return to Pakistan, which he undertook largely on his own, was even more harrowing and it adds even more drama to his account.
Only six of the more than 4,000 photos that Lefevre took on the trip were actually published in newspapers, but Emmanuel Guibert, who created one of the most compelling graphic novel chronicles of WW II by illustrating the experiences of American G.I. Alan Cole in
Alan's War
(also published by First Second), convinced Lefevre to pull out the contact sheets from his first Afghan journey, and together, using both Lefevre's photos and Guibert's skillful "clear line" drawings, they created one of the most fascinating examples of graphic novel journalism in existence. While at first the reader is drawn to the documentary concreteness of Lefevre's primarily black and white photos, as the story continues it is impossible to discount the importance of Guibert's drawings, which fill in the gaps in an expansive narrative that ranges from a discerning glimpse of a very different and variegated culture to an at times heartbreaking chronicle of the horrors of modern warfare to a desperate struggle for survival.
If the most arresting images in the book such as two men and a donkey perched on a flat rock in the middle of stone-strewn stream or the two-page spread of the photograph that Lefevre took when he collapsed on a mountain trail "to let people know where I died" are photographs, Guibert's drawings are the sinews that hold this remarkable volume together. The large format presentation of this volume is simply superb and the afterword explaining what happened to the people involved rounds out an unforgettable reading experience.
--
Tom Flinn