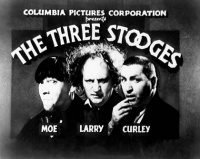 The Farrelly brothers are getting the cast together for their upcoming Three Stooges feature, set to start filming later this year for release in 2010. Sean Penn is set to play Larry in the MGM film, his first comedic role since We're No Angels in 1989. Fast Times at Ridgemont High in 1982 was, of course, Penn's first major movie role so he first became well known as a comedic actor.
Negotiations are underway with Jim Carrey to play Curly; Carrey would gain around 40 pounds for the role.
And the brothers are looking at Benicio Del Toro to play Moe, perhaps the biggest surprise in the list (although Del Toro showed some comedic acting ability in Snatch).
The Farrelly brothers have a great list of comedies in their oeuvre, including Dumb and Dumber, Kingpin, There's Something about Mary, and Shallow Hal.