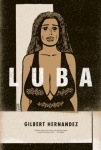 Luba
Fantagraphics Books
Release date: May 2009
$39.99
Author/Artist: Gilbert Hernandez
Format: 600 pages; 7" x 10.25"
ISBN: 978-1-56097-960-9
The long-awaited sequel to the perennial classic
Love and Rockets
collection "Palomar" finally arrives. The iconic, imposing, hammer-wielding matriarch Luba (along with her ever-expanding family) takes center stage in this omnibus hardcover collection -- over 100 stories chronicling Luba's life as an immigrant in turn-of-the-millennium Southern California.
Readers of mature, intelligent comics have thrilled to
Love and Rockets
for over 25 years; the arrival of this book is a comics event.
Description of excerpt: pages 4-9, featuring Luba's precocious niece Venus.
Next Page (Page 2)
Next Page (Page 2)