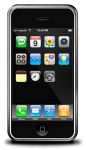 One of the fastest growing revenue-producing distribution channels for comics is mobile devices. Sold primarily as iPhone and iPod Touch apps, a wide range of comic issues are now available.
For an overview of the mobile comics landscape as of the time of this update, see "
Mobile Comics Growing Geometrically
."
This page is an attempt at a comprehensive list of comics available to mobile devices (not including free Webcomics readable on mobile browsers). Most of the titles listed below have multiple issues available; we've made no attempt to list individual issues (yet). If we've missed your app or other comic content for mobile devices, please e-mail
news@icv2.com
and
mgriepp@icv2.com
with the titles you offer.
We don't list comic reader apps tied to pirated content (there are at least two).
All of the comics below are available on iTunes, except for those listed for other devices or software platforms, below.
We're listing the publisher in addition to the company that markets the content for mobile devices, where appropriate. In some cases, those are the same company.
Title

Pub./Creator

Arrow

MyRomanceStory

Arrow

Comics by comiXology

1,001 Arabian Nights: Adventures of Sinbad

Zenescope

Abyss

Red 5

Action Philosophers

Evil Twin

Astounding Wolf-Man

Kirkman/Image

Atomic Robo: Dogs of War

Red 5

Buckaroo Banzai: Return of the Screw

Moonstone

Call of the Wild

Moonstone

Captain Action

Moonstone

Captain Blood: Odyssey

SLG

Cisco Kid

Moonstone

Classwar

Com.x

Clockwork Girl

Arcana

Contract

First Salvo

Contract: Solo Missions: Jesse

First Salvo

Dark

Digital Webbing

Elephantman

Image

Enigmas, The

Digital Webbing

Eve: Vampire Diva

Arcana

Ezra: Evoked Emotions

Arcana

Farmhouse

Asylum Press

FCHS

AdHouse Books

Fearless Dawn

Asylum Press

Fist of Justice

Digital Webbing

Growing Up Enchanted

AAM/Markosia

Guerillas

Revel/Image

Invincible

Kirkman/Image

Jam in the Band

Robin Enrico

Jersey Gods

Brunswick/Image

JFH: Justice for Hire

Creative Impulse

Kade: Sun of Perdition

Arcana

Killing Girl

Image

Lexian Chronicles

AAM/Markosia

Madman Oddity

Allred/Image

Mage: The Hero Discovered

Image

Midnight Kiss

AAM/Markosia

Midnight Sun

SLG

Mort Grim

AdHouse Books

Neozoic

Red 5

Nightmares and Fairy Tales

SLG

Of Bitter Souls

AAM/Markosia

Omega Chase

Th3rd World Studios

Path

Com.x

Red Rocket 7

Allred

Remake

AdHouse Books

Return to Wonderland

Zenescope

Sakura Pakk vs. Rumble Pak

EigoManga

Servant

Clark/Matsuda

Silencers

Van Lente/Ellis

Skyscrapers of the Midwest

AdHouse Books

Smoke

Alex Di Campi

Smoke & Mirror

AAM/Markosia

Stuff of Legend

Th3rd World Studios

Vincent Price Presents

Bluewater

Walking Dead

Kirkman/Image

Warlash: Dark Noir

Asylum Press

We Kill Monsters

Red 5

Werewolves: Call of the Wild

Moonstone

William Shatner's Tek War

Bluewater

Wrath of the Titans: Cyclops

Bluewater

Zig Zag

AdHouse Books

Crispy Comics

Super Kaiju Hero Force

Crispy Comics

Dark Horse Comics

Terminator: Death Valley

Dark Horse

DC Comics

Batman Black and White Motion Comics

DC Comics

Superman Red Son Motion Comics

DC Comics

Watchmen Motion Comics

DC Comics

Genus Apps

8-9-3

Way Out Comics

Beowulf

IDW

Boy Who Made Silence

AAM/Markosia

Contract with God

W.W. Norton

Haven

AAM/Markosia

Hope Falls

AAM/Markosia

Kong

Markosia

Lexian Chronicles

AAM/Markosia

N Guard

AAM/Markosia

Prince of Baghdad

AAM/Markosia

Serpent Wars

AAM/Markosia

Strange Science Fantasy

Red Window

United Free Worlds

Fantasy Prone Comics

Zombies vs. Robots

IDW

GoComics by UCLICK

Also available from: www.gocomics.com/explore/app_store

The Argyle Sweater

Scott Hilburn

Basic Instructions

Scott Meyer

Bone

Cartoon Books

Dramacon

Tokyopop

Elephantmen

Image Comics

Garfield Minus Garfield

Dan Walsh

Ghostbusters

IDW

Godland

Image Comics

Grounded

Image Comics

Guilstein

Halo & Sprocket

SLG Publishing

The Hardy Boys

Papercutz

Magic Eye

Nancy Drew

Papercutz

Ninjatown

Shawn Smith

Pibgorn

Brooke McEldowney

Reality Check

Dave Whamond.

Screamland

Image Comics

The Thief of Always

IDW

TMNT Souls Winter

Mirage Studios

Tales of the TMNT

Mirage Studios

Vampire Hunter D

DMP

We the Robots

Chris Harding

Xombie Reanimated

Devil's Due

IDW Publishing

CSI: Bad Rap

IDW

Danger Girl

IDW

G.I. Joe: Origins

IDW

G.I. Joe: The Rise of Cobra Movie Adaptation

IDW

G.I. Joe: The Rise of Cobra Prequel

IDW

Groom Lake

IDW

iVerse Media

Archie

Archie Comics

Armor X

Image Comics

Atomic Robo

Red 5 Comics

Chance of a Lifetime

Cellar Door

Consortium of Justice

Chimaera Studios

Doc Thunder

Dark Horse

Dynamo 5

Image Comics

Farscape

BOOM!

Flash Gordon

Ardden

Frankenstein: Prodigal Son

Dabel Brothers

FX

IDW

Gideon's Trip

Gold Digger Peebo Tales

Antarctic Press

Ghost Whisperer

IDW

Her Majesty's Bulldog Brigade

Chimaera Studios

Hexed

BOOM!

Igor: Movie Prequel

IDW

Kaeru-Boy

KidKong

Neozoic

Red 5 Comics

Oz: The Manga

Antarctic Press

Proof

Image Comics

Ray Harryhausen Presents Wrath of the Titans

Blue Water

The Red Star

Image Comics

Return of Shadowhawk

Image Comics

Star Trek Alien Spotlight

IDW

Star Trek Archives

IDW

Star Trek: Countdown

IDW

Shadowhawk

Image Comics

Transformers: Alliance

IDW

Transformers: Defiance

IDW

Transformers: Revenge of the Fallen

IDW

Wargod

Chimaera Studios

The Warriors

Dabel Brothers

White Picket Fences

Ape Entertainment

Keenspot

Abby's Agency

Accursed Dragon

Lost and Found

Marry Me

Out There

Passing

Penny & Aggie

Sebo

Wandering Ones

Zap

Marvel Comics

Spider-Woman Motion Comics

Marvel

Nexstudios

Alien Echo

Holmes

Panelfly

Brownsville

NBM

Flower and Fade

NBM

Lindbergh Child

NBM

North Country

NBM

Unholy Kinship

NBM

Robot Comics

iPhone

American Terror

Birth

The Eternal City

Cory Doctorow's Futuristic Tales of the Here and Now

IDW

Rok Comics

Sold by subscription from: www.rokcomics.com

Andy Capp

Annie Droid

Beau Peep

Dark Mists

Garth

Jeff Hawke

Madd Science

Mandy

Robin Hood

Roy of the Rovers

Shades

Sunsoft

Princess Ai

Tokyopop

Warner Bros. Digital Distribution

Terminator Salvation

IDW

Zeitgeist Games

Japan Ai--A Tall Girl's Adventures in Japan

Go! Comi

Robot Comics

Android--Robot

American Terror

Anda's Game

Birth

Craphound

Diary of the Black Widow

Formera

Cory Doctorow's Futuristic Tales of the Here and Now

IDW

Jesus Hates Zombies

Misery Depot

The Eternal City

Ubunchu

When Sysadmins Ruled the Earth

Kindle

Armageddonquest

Robot

Awaken Forest

DMP

Desert Peach

Robot

Endless Rain

DMP

Il Gatto Sul G

DMP

Let's Draw Manga: Shoujo Characters

DMP

Let's Draw Manga: Yaoi

DMP

Lost Boys

DMP

Sugar Milk

DMP

Tumor

Archaia

Vampire Hunter D

DMP

Nintendo DSi

Anda's Game

Robot Comics

Misery Depot

Robot Comics

Thunder Road

Robot Comics