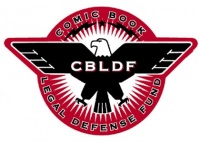 Christopher Handley pleaded guilty on Wednesday in U.S. District Court to one count each of Possession of Obscene Visual Representations of the Sexual Abuse of Children, and of Mailing Obscene Matter, in the case related to his importation and possession of manga (see "CBLDF in Manga Obscenity Case").
The plea was part of a plea agreement negotiated with the Department of Justice. Three counts were dismissed as part of the agreement.
According to a statement by the Department of Justice, the depictions seized include "…Japanese manga drawings of minor females being sexually abused by adult males and animals."
The two charges carry a combined maximum penalty of 15 years in prison, $500,000 in fines, and three years of supervised release. There is no minimum sentence, and sentencing considerations provide for a three level decrease of offense level for acceptance of responsibility. No promises were made to the defendant as to the sentence to be imposed. Handley agreed to pay $100 per count to the court as special assessments.
Handley also agreed to forfeit his computer and manga with "obscene visual depictions" to the government.
Handwritten changes to the plea agreement indicate that it was first offered with a deadline of December 16th for Handley to accept. The actual agreement and order were filed Wednesday.
A sentencing status conference is scheduled for August 18th.
The Comic Book Legal Defense Fund became a special consultant to Handley's defense team last October, providing access to First Amendment experts, recommending expert witnesses on manga, and funding expert research for an eventual jury trial. The Fund spent $2400 on the research, and had allocated up to $15,000 for expert witness expenses.
An early ruling in the case did establish a limited favorable precedent with regard to certain aspects of the act under which Handley was charged (see "Partial Victory in Handley Case Ruling").
CBLDF Executive Director Charles Brownstein expressed the organization's disappointment with the outcome. "Naturally, we are very disappointed by this result, but understand that in a criminal case, every defendant must make the decision that they believe serves their best interest," he said. "Because the set of facts specific to this case were so unique, we hope that its importance as precedent will be minimal. However, we must also continue to be prepared for the possibility that other cases could arise in the future as a result."
"Mr. Handley now faces the loss of his freedom and his property, all for owning a handful of comic books," Brownstein added. "It's chilling. The Fund remains unwavering in our commitment to be prepared to manage future threats of this nature wherever they arise. This is the unfortunate conclusion of Mr. Handley's case, but it is not the end of this sort of prosecution. For that reason, the Fund stands steadfast in our commitment to defending the First Amendment rights of the comics art form."
Click here to donate to the Comic Book Legal Defense Fund.