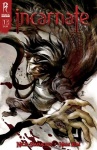 Nick Simmons, son of Kiss legend Gene Simmons and star of A&E's Gene Simmons Family Jewels, is writing and penciling Incarnate, a three-shot "American manga" miniseries for Radical. The book will be launched in a new 52-page, $4.99 format, which Radical plans to use on several other titles, including FVZA: Federal Vampire and Zombie Agency and The Last Days of American Crime.
The series features a race of shape-shifters threatened by a secret, globe-spanning organization.
Simmons will be signing copies at the Radical booth at San Diego Comic-Con; the book will be released after the show.