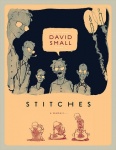 A unique panel produced a list of fall graphic novel recommendations from four librarian graphic novel experts at the BEA last weekend. The panel, organized by Diamond Book Distributors' John Shableski, produced a list of 16 recommendations--one from each librarian in four different age groups: kids, tweens, teens, and adult.
According to Shableski, "
Stitches
was the big book of the entire show. David Small is a celebrated childrens illustrator and his memoir couldn't have come at a better moment. Bob Weil, of W.W. Norton was the editor and also chosen spokesman to represent the book on the Editors Buzz Panel leading into the show. There were 7 houses represented and no one really can recall the other books because
Stitches
rocked the house. It really is an amazing book and I'll bet good money that it picks up a lot of major awards this year."
He also pointed to several other especially notable titles:
Little Mouse Gets Ready
by Jeff Smith
Crogan's March
by Chris Schweizer
Smile
by Raina Tegelmeier
TOON Treasury of Classic Comics
The four panelists were:
Eva Volin, Committee Chair. After spending almost ten years managing bookstores, children's librarian Eva decided to take her customer service skills to the people. She is now the Supervising Children's Librarian for the Alameda Free Library, where she puts graphic novels into the hands of kids every day. She served as a judge on the 2008 Will Eisner Comic Industry Awards, and is currently chair of the 2010 ALA/YALSA Great Graphic Novels for Teens Committee, which recommends the best graphic novels of the year to librarians across the country. Eva knows comics.
Barbara Moon is a Youth Services consultant for the Suffolk Cooperative Library System. She has been a classroom teacher, school librarian, and college reference librarian. She has organized graphic novel symposiums, led a session on graphic novels at the National Council of Teachers of English annual conference, and is a frequent presenter at workshops for Long Island school and public librarians. She writes graphic novel reviews for School Library Journal, and serves as a member of Great Graphic Novels for Teens Selection Committee.
Christian Zabriskie is a Young Adult Librarian for Queens Library where he connects inner-city teens and reading. Prior to becoming a librarian he worked for Houghton Mifflin as both editor and sales rep. He holds an MA in English from the University of St. Andrews in Scotland in addition to his MLS.
Jesse Karp is the Early Childhood and Interdivisional Librarian at the Little Red School House and Elisabeth Irwin High School. He reviews graphic novels for Booklist (booklistonline.com), blogs about them for GuysLitWire (guyslitwire.blogspot.com), has delivered seminars on the form at Pratt Institute and Queens College and is serving on ALA's Great Graphic Novels for Teens Committee.
Click here
for the list of books.