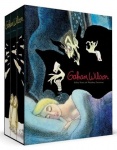 Fantagraphics will release a three volume slipcased hardcover set of Gahan Wilson's work for Playboy on October 27th at $125. Gahan Wilson: 50 Years of Playboy Cartoons will include all of the cartoons that Wilson drew for Playboy, his prose fiction that appeared in the magazine, and his text and art features.
The three 8" x 10" hardcovers comprise 1056 pages in all, with over 1000 cartoons spanning 51 years of Wilson's career.
Neil Gaiman and Hugh Hefner provide introductions.