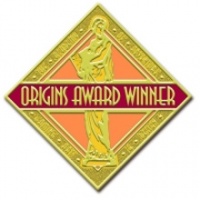 The winners of the 35th Annual Origins Awards were announced on Saturday night at the Origins Game Fair at the Greater Columbus Convention Center in Columbus Ohio. The five finalists in each category were previously revealed at the GAMA Trade Show in Las Vegas in April (see "35th Annual Origins Award Finalists"). Among the winners were Z-Man Games' Pandemic board game and Academy Game's Conflict of Heroes: Awakening the Bear, an historical tactical military board game set on the Eastern Front in 1941-42, North Star's Say Anything (Party Games), Archaia's Mouseguard RPG, and WotC's Magic the Gathering: Shards of Alara 1 (Collectible Card Games) and Star Wars Miniatures: The Clone Wars (Line of Miniature Figures).
Here's a complete list of the 2009 Origins Winners (Categories are in boldface and the winners are in italics):
Board Games: Pandemic by Z-Man Games, Inc.
Designed by Matt Leacock
Children's, Family, and Party Games: Say Anything by North Star Games
Designed by Dominic Craphuchettes and Satish Pillalamarri
Historical Board Games: Conflict of Heroes: Awakening the Bear by Academy Games
Designed by Uwe Eickert
Card Games: Dominion by Rio Grande Games
Designed by Donald X Vaccarino
Collectible Card Games: Magic the Gathering: Shards of Alara 1 by Wizards of the Coast
Designed by Bill Rose and Devin Low
Fiction: Worlds of Dungeons & Dragons Volume 2 Published by Devil's Due
Edited by James Lowder & Mike O'Sullivan
Non-Fiction: Tour de Lovecraft: The Tale Published by Atomic Overmind Press
Written by Ken Hite
Miniature Game Rules: Classic Battletech: Tactical Operations by Catalyst Game Labs Designed by Randall N. Bills and Herbert A Beas II
Miniature Figure or Line of Miniature Figures: Star Wars Miniatures: The Clone Wars by Wizards of the Coast
Historical Miniatures Line of the Year: Tie
Fields of Glory Miniature Rules by Osprey Publishing / Slitherine Software
Designed by Richard Bodley-Scott
Song of Drums and Shako by Ganesha Games
Designed by Andrea Sfiligoi
Historical Miniature Figure Game Rules Supplement: Rise of Rome (Fields of Glory Supplement) by Osprey Publishing
Historical Miniature Figure Line: SS-Panzerdivision 'Das Reich' Panzerkompanie (GEAB06) [15mm Line] by Battlefront Games
Role-Playing Game: Mouseguard Role-Playing Game by Archaia Studios Press
Designed by Luke Crane and David Petersen
Role-Playing Game Supplement: Serenity Adventures by Margaret Weis Productions
Designed by Alana Abbot, Billy Aguiar, James Davenport, Ted Reed, and James M. Ward
Game Accessory: D-Total die by Gamescience
Designed by Dr. A. F. Simkin, Frank Dutrain, and Louis Zocchi

Play By Mail/Post: Hyborian War by Reality Simulations Inc.
Designed by Paul W Brown III