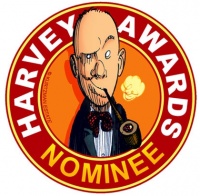 The Executive Committee of The Harvey Awards -- which awards excellence in the Comic Book industry -- has announced the list of nominees for 2009 awards consideration.
The winners, selected by industry creators, writers, inkers and designers, will be announced October 10th as part of the Baltimore Comic-Con.
Harvey nominations show quality in the product, which generally translates into strong sales and may provide a marketing hook in the form of nominee/winner sales displays.
Best Writer

Kyle Baker, Nat Turner, Abrams Books
Ed Brubaker, Captain America, Marvel Comics
John Gallagher, Buzzboy, Sky Dog Comics
Jeff Kinney, Diary of a Wimpy Kid, Amulet Books
Grant Morrison, All-Star Superman, DC Comics

Best Artist

Gabriel Ba, Umbrella Academy, Dark Horse Comics
Kyle Baker, Nat Turner, Abrams Books
Jimmy Gownley, Amelia Rules, Renaissance Press
Jason Kruse, World of Quest, Yen Press
Frank Quitely, All-Star Superman, DC Comics

Best Cartoonist

Lar deSouza, Least I Could Do, www.leasticoulddo.com
John Gallagher, Buzzboy, Sky Dog Comics
Al Jaffee, Tall Tales, Abrams Books
Jeff Kinney, Diary of a Wimpy Kid, Amulet Books
Thom Zahler, Love & Capes, Maerkle Press

Best Letterer

Jimmy Gownley, Amelia Rules, Renaissance Press
Rob Leigh, The Spirit, DC Comics
Doug Sherwood, Local, Oni Press
John Workman, Marvel 1985, Marvel Comics
Thom Zahler, Buzzboy, Sky Dog Comics

Best Inker

Rich Faber, Buzzboy, Sky Dog Comics
Jamie Grant, All-Star Superman, DC Comics
Jeff Kinney, Diary of a Wimpy Kid, Amulet Books
Mark Morales, Thor, Marvel Comics
Ryan Winn, The Darkness, Image Comics

Best Colorist

Frank Cammuso, Otto's Orange Day, Raw Junior, LLC
Jamie Grant, All-Star Superman, DC Comics
Laura Martin, Thor, Marvel Comics
Wil Quintana, The Mice Templar, Image Comics


Best Cover Artist

Frank Cho, Buzzboy: Sidekicks Rule!#3, Sky Dog Press
James Jean, Fables, Vertigo Comics
Jay Lynch, Mindshaft #23, Mindshaft Publishing
Ken Rocafort, Pilot Season: Core #1, Top Cow
Alex Ross, Justice Society of America, DC Comics

Best New Series

The Dreamer, IDW
Echo, Abstract Studios
High Moon, www.zudacomics.com
Night Owls, www.zudacomics.com
Supertron, www.zudacomics.com

Best Continuing or Limited Series

All-Star Superman, DC Comics
Captain America, Marvel Comics
Diary of a Wimpy Kid, Amulet Books
Mice Templar, Image Comics
Umbrella Academy, Dark Horse Comics

Best Biographical, Historical, or Journalistic Presentation

Draw!, edited by Mike Manley, Twomorrows Publishing
How to Make Webcomics, Brad Guigar, Dave Kellett,
Scott Kurtz, and Kris Straub, Image Comics
Kirby: King of Comics, Mark Evanier, Abrams Books
Scorchy Smith and the Art of Noel Sickles, edited by Dean Mullaney, IDW
Wordless Books: The Original Graphic Novels,
edited by David A. Berona, Abrams Books

Best Syndicated Strip

Brewster Rockit: Space Guy!, Tim Rickard, Tribune Media Services
Get Fuzzy, Darby Conley, United Features Syndicate
Mutts, Patrick McDonnell, King Features Syndicate
The Norm, Michael Jantze, Uclick Gocomics
Pearls Before Swine, Stephan Pastis, United Features Syndicate

Best Anthology

Comic Book Tattoo, edited by Rantz Hoseley, Image Comics
Flight Volume Five, edited by Kazu Kibuishi, Villard
MOME Volume 10, edited by Eric Reynolds, Fantagraphics Books
Pixu #1, edited by Gabriel Ba and Fabio Moon, Self-Published
Popgun Volume 2, edited by Joe Keatinge and Mark Andrew Smith, Image Comics

Best Graphic Album--Original

Bottomless Belly Button, Fantagraphics Books
Diary of a Wimpy Kid: Roderick Rules, Amulet Books
Essex County: The Country Nurse, Top Shelf
Skim, Groundwood Books
Too Cool to Be Forgotten, Top Shelf
World of Quest: Vol. 2, Yen Press

Best Graphic Album—Previously Published

Amelia Rules!: Funny Stories, Renaissance Press
M, Abrams Books
Nat Turner, Abrams Books
The Mice Templar Vol. 1, Image Comics
Queen and Country: Volume 3, Oni Press
Skyscrapers of the Midwest (Hardcover), Adhouse Books

Best Single Issue or Story

Acme Novelty Library #19, Self-Published
First Born: Aftermath #1, Top Cow
Love and Rockets, Volume 3 #1, Fantagraphics Books
M, Abrams Books
Nascar Heroes #5, NASCAR Comics
Nat Turner, Abrams Books
The Amazing Remarkable Monsieur Leotard, First Second
Y: The Last Man #60, Vertigo Comics

Best Domestic Reprint Project

Astounding Space Thrills, IDW
Complete Peanuts, Fantagraphics Books
Complete Terry and the Pirates, IDW
Scorchy Smith and the Art of Noel Sickles, IDW
Wacky Packages, Abrams Books

Best American Edition of Foreign Material

Gus and His Gang, First Second
Pocket Full of Rain, Fantagraphics Books
Red Colored Elegy, Drawn and Quarterly
Solanin, Viz
Witchblade Takeru Manga #'s 11 & 12, Top Cow

Best Online Comics Work

Black Cherry Bombshells, Tony Trovarello and John Zito, www.zudacomics.com
High Moon, Scott O. Brown, www.zudacomics.com
Least I Could Do, Lar deSouza and Ryan Sohmer, www.leasticoulddo.com
Night Owls, Bobby & Peter Timony, www.zudacomics.com
PVP, Scott Kurtz, www.pvponline.com

Special Award for Humor in Comics

Lar deSouza, Least I Could Do, www.leasticoulddo.com
John Gallagher, Buzzboy, Sky Dog Comics
Al Jaffee, Tall Tales, Abrams Books
Jeff Kinney, Diary of a Wimpy Kid, Amulet Books
David Malki, Wondermark, www.wondermark.com

Special Award for Excellence in Presentation

Complete Local: Hardcover Edition, Ryan Kelly and Brian Wood, Oni Press
Kirby: King of Comics, Mark Evanier, Abrams Books
Queen and Country: Volume 3, Greg Rucka, Mike Norton,
Steve Rolston, and Chris Samnee, Oni Press
Tall Tales, Al Jaffee, Abrams Books
Wondermark Volume1: Beards of Our Forefathers, David Malki, Dark Horse Comics

Best New Talent

Matt Cassan, Nascar Heroes, Nascar Comics
Bryan J.L. Glass, The Mice Templar, Image Books
Laura Innes, The Dreamer, IDW
Tim Sievert, That Salty Air, Top Shelf
Bobby Timony, Night Owls, www.zudacomics.com