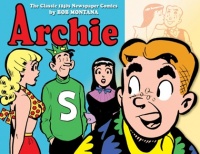 IDW Publishing has announced a partnership with Archie Comics to reprint some of the most iconic Archie stories in deluxe hardcover and trade paperback editions. Under the agreement IDW will reprint in sequence the classic Archie newspaper strip by series creator John Goldwater and original Archie artist Bob Montana. The strip reprints will be published in IDW's Library of American Comics imprint under the editorship of Eisner-Award winner Dean Mullaney.
In addition to the original newspaper strips IDW will also present Best Of volumes spotlighting the work of great Archie artists such as Dan DeCarlo, Bob Montana, and Stan Goldberg. These books will collect some of the best work from Archie comic books from all eras. Much of the material that will be included in the Best Of collections has been out of print since its original publication.
In addition, Craig Yoe (Secret Identity), the leading contemporary connoisseur of quirky and fascinating comics, will edit a series of special collections of the comedic Archie superhero series from the 1960s, Archie as Pureheart the Powerful and Archie's Madhouse.
Created in 1941 as the comics' answer to the popular and wholesome Andy Hardy movies from MGM, the Archie comics are a paean to an America of malt shops, beanie-wearing freshmen, and high school dances that may not have existed in such a squeaky clean form outside the silver screen, but which remains a captivating vision of a great place to visit via the magic of comics.