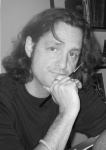 An ICv2 Release. Pop culture publishing and consulting company ICv2 has announced that Bone creator Jeff Smith and The Surrogates writer Robert Venditti have been added as speakers for the ICv2 Comics and Media Conference. The Conference will be held on Wednesday, July 22nd, in conjunction with San Diego Comic-Con International.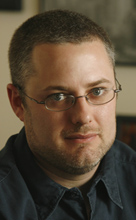 In "The Surrogates:
A Writer's Debut that Went Hollywood,"
The Surrogates
writer Robert Venditti and Top Shelf Publisher
Chris Staros
will reveal how a debut Top Shelf miniseries turned into a major film starring Bruce Willis (out in September).
And in "When to Say No: The True Adventures of Bone in Hollywood," Bone creator Jeff Smith talks about his experiences with the Bone property (over three million graphic novels sold) in Hollywood.
"These are two very different stories, and they're only part of the range of experience we're bringing to the Conference," ICv2 President Milton Griepp said. "With voices from production and management, creators, publishers, retail, and libraries, we're going to be able to explore the relationship between comics and film, TV, and videogames from all directions."
The panelists and speakers at the Comics and Media Conference have created, published, produced, or worked on some of the hottest transmedia properties in the business, including:
Avatar
Battlestar Galactica
Buck Rogers
The Darkness
Halo
Hellboy
Heroes
Scott Pilgrim
Smallville
Star Trek
Transformers
Wanted
Witchblade
X-Men Origins:

Wolverine
Although Comic-Con passes are sold out, the ICv2 Comics and Media Conference, which was just announced last month, is continuing to sell tickets.
PW Comicsweek and The Beat by Heidi MacDonald, two publications of Publisher's Weekly, are sponsors of the conference.

The Beat
The Beat by Heidi MacDonald is a news blog of comics culture in which MacDonald delivers her own brand of coverage on the world of comics.

PW Comics Week
Every week PW Comics Week reports on comics & graphic novel publishing bringing our readers business trends, artist, publisher profiles & retail information. It also delves into top stories and a release schedule of not-to-be missed titles.

ICv2
ICv2 covers the business world of comics and graphic novels, specialty DVDs, tabletop games, and movie and TV licensed products on its Website, ICv2.com, and in its magazine, the ICv2 Insider's Guide.
For more information, click here. For full panelist info, click here.
To register, click here.

Contact: Milton Griepp at MGriepp@icv2.com or 608-284-9400, x1