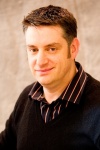 At Comic-Con, we had a chance to talk to David Bowers, who directed the Astro Boy
feature (see "Imagi Completes Financing"), about the target audience for the film, the reaction of those that have seen it, and the differences between Astro Boy and other recent features based on anime.
What's the target audience of the film?
Somebody asked me who the target audience was and I referred to Star Wars. When I was ten years old I saw Star Wars, and I loved R2D2 and C3PO. When I was older, coming back as an adult, I loved the Luke Skywalker--Darth Vader relationship.
I'm hoping Astro Boy's a film that works on many levels. There's lots of stuff there for kids, a lot of fun for adults as well. It's quite political, it's a tragic story but at the same time it's filled with spectacle, action/adventure. There's lots of comedy. So hopefully, everyone.
Did you screen the film here?
We screened some footage at Comic-Con and it was great. For Thursday morning we managed to fill 2000 seats. People were cheering and laughing in all the right places. It was very encouraging. I was a little worried about how people would react but I couldn't have asked for it to go better.
I think one of the things you have to overcome is that there have been a couple of anime-based features recently that haven't done that well. What have you done differently from what others did in updating some other properties that you think will make this more successful?
I think we've made a great contemporary movie. It's not retro in the way other movies have been. If you look at the original manga and the original TV show now they look a little quaint and retro. I didn't want the movie to be like that. At the time, those appeared to be super cutting edge and really, really fresh. I wanted this to feel fresh. It's a new thing. It's a reinvention for 2009 and doesn't harken back to older versions in the way that some anime movies have done in the past. It's fresh, hopefully.