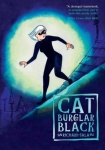 Cat Burglar Black
First Second
Release Date: 9/01/2009
$16.99
Creator: Richard Sala
Format: 128 pgs.; Trade Paperback
ISBN: 978-1-59643-144-7
Rating: Grades 5-8
ICv2 Rating: 4 out of 5 Stars
Fifteen-year-old K arrives at Bellsong Academy expecting to be welcomed by her long-lost aunt. Instead she is greeted by members of The Obtainers, a secret organization of thieves. They have been watching K grow up, first in an orphanage where the headmistress trained the children to be pickpockets, and then in reform school, where K ended up after the orphanage was disbanded by the authorities. Now that they have K and three other girls in their clutches, The Obtainers are expecting K to use her skills to find the clues that will lead them to the treasure hidden beneath Bellsong Academy. But when the other girls begin disappearing and The Obtainers' story stops adding up, K takes steps to solve the mystery herself.
Cat Burglar Blac
k has a style most often found in European comics. The pen and watercolor pictures are graceful and the occasional wordless pages are beautifully composed to convey K's tension or emotion.
The story reads like a Tintin/Oliver Twist hybrid and is mostly successful. That the girls do not instantly bond in friendship is refreshing and K's loner status and sense of isolation is believable. While the plot becomes convoluted at times, the bones of the story are solid and the characters, particularly the villains, are fun takes on the standard tropes. Some major threads are left dangling, so a sequel is sure to come.
Upper elementary and middle school readers will look forward to reading more about K and her adventures.
-
Eva Volin