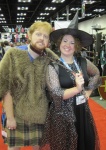 We continue our Gen Con in Pictures series (for Thursday's pics, see "Gen Con Thursday"). Here are more of our favorite images from Gen Con, presented chronologically as they were taken on Friday.
This witch was leading a man in a kilt on a leash. After we snapped this picture, the man grunted, "Thank you for stealing my soul," and shambled off with his "master."
A gothic steampunk kind of look near the Privateer booth.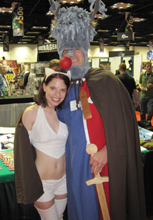 We don't think these two were there together, but we posed them together anyway.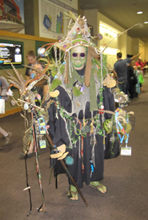 Our favorite costume at the show—
Right Place
, Right Time.
Note the toenails.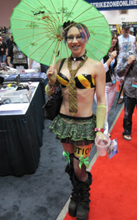 We asked about her look, and she said, "This is just the way I like to dress."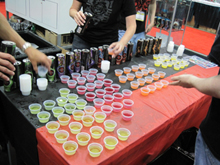 Fans were offered samples of the
Chaotic
beverages at the TC Digital booth.
Currently available in Canada, with plans for
U.S. roll-out soon, the 100% natural, vitamin-enhanced beverages come in four flavors, three caffeinated and one not.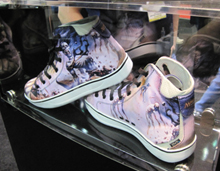 Magic: The Gathering Gravestorm RYZing
shoes.
Illustrator: Alex Horley.
Shoe Design: Todd Breland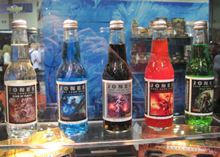 Jones Soda's limited edition
Planeswalker
sodas.
Other than the lucky players that were at the right stores when the
Magic
brand team did a surprise soda drop at a few spots around the country recently, the only way we know to get this is $18.99 plus shipping per 12-pack, from Jones.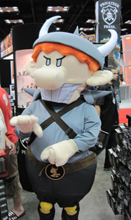 Mascots aren't often seen at Gen Con booths, but this fellow was promoting Steve Jackson's Munchkin, seen here hanging out at the Privateer booth.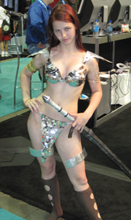 She-devil with a sword!
Click here
to go back to "Gen Con Friday, Part 1."