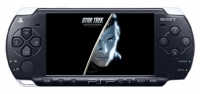 Confirming rumors from earlier this year (see "PSP Comic Store"), Sony will launch a digital reader for the PlayStation Portable with Digital Comics, a new service from the PlayStation Store, in December. PSP owners can download the reader, and then purchase comics from the store.
Initial content promised for the launch includes Marvel titles (featuring Spider-Man, X-Men, and Fantastic Four), Transformers, GI Joe, and Star Trek comics from IDW, and comics from Archie and Image via i-Verse.
The reader will include an "Autoflow" feature for zooming in and out and moving from frame to frame on the page.
The December launch will include English language PlayStation Store sites in the US, UK, Ireland, Australia, New Zealand, and South Africa.