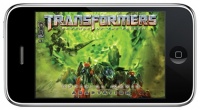 It's been 60 days since we updated our directory of mobile comics content (primarily for the iPhone, see "Mobile Comics Directory—Update #4"), and the number of titles available (most of which include multiple issues) has gone from 105 to 207 in that time.
The number of companies producing mobile content has more than doubled, including a number of significant additions. One of the new apps, comiXology (see "New iPhone Comics App #1 in Books"), now has the most titles available, passing up a number of older apps in the process. It offers in-app purchasing, a feature also available from even newer entrant Panelfly.
iVerse, which has been around for nine months, a near eternity in the category, announced last week that its comic apps have been downloaded more than one million times since the company's launch.
IDW has taken its digital production in-house, and Dark Horse has also put out its first release on its own. Dark Horse also announced that it will begin releasing its Star Wars titles in partnership with Lucasfilm and THQ Wireless. Three graphic novels will be the first Star Wars releases: Star Wars: The Clone Wars Vol. 1 – Shipyards of Doom, Star Wars: Empire, Vol. 1 – Betrayal, and Star Wars: Legacy Vol. 1.
Neither Marvel nor DC have taken the big step yet, although Marvel joined the Motion Comics category with its Spider-Woman release, which topped the animation charts and came in at #2 among all TV episodes shortly after its release.
Handheld game devices are joining the mix, with the first comics for the Nintendo DSi now available, and Sony announcing that it will be launching a reader application for its PSP handheld (see "Digital Comics for PSP") for which Marvel, IDW, Archie, and Image content will be available (among others).
So a tremendous amount of additional comic content is about to become available, on more devices, from more publishers. This is going to expose people that haven't bought comics in years (or ever) to the category, and holds the potential to recruit new customers to print publications as well.