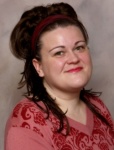 Yaoi Press founder Yamila Abraham has been indicted in Federal District Court in Nevada on seven counts of mail fraud, one count of misbranding a drug, and a ninth count of "entry of goods by means of false statements." All of the charges are related to Abraham's operation of a Website called Pleasureherbs.com from 2004 to 2006.
Abraham was taken into custody and appeared in court on Monday, where she pleaded not guilty to all charges. She was released on her own recognizance.
Abraham announced on her blog that she would continue making convention appearances, including OtakuMex this weekend, Hollywood Book Fair on October 4th, Anime St. George October 10th, and Yaoi Con October 30th. Her post also said that she was unable to talk about the charges and urged convention organizers and others to continue to do business with Yaoi Press.
"Works of over 100 talented creators rest on my shoulders," Abraham said in her post. "I must continue to promote them, and this company."
In her post, Abraham said that the situation "will be resolved. Hopefully sooner rather than later."
The indictment alleges that Abraham imported a drug, DXM (the active ingredient in over the counter cough suppressants), illegally by claiming it was vitamin B12, then marketed it as an "herbal alternative to recreational street drugs," stating that it included extractions of Fevizia, Palenzia, and De la Amazon. The indictment alleges that the pills contained only DXM, in much higher than recommended doses.
The court determined that Abraham was indigent, and appointed a public defender.
A jury trial is scheduled for November 16th.