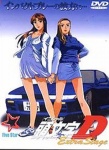 At the New York Anime Festival Funimation announced the acquisition from Kodansha of the home entertainment, broadcast, digital, and merchandise rights to the street racing-themed Initial D anime; and the home entertainment rights to the 24-episode X anime TV series and the X OVA, both of which are based on the apocalyptic manga series from Clamp.
Funimation indicated that it has acquired most of the various Initial D anime series, the 26-episode First Stage (1998), the 13-episode Second Stage (1999), the 2-hour anime movie Third Stage (2001), the 24-episode Fourth Stage (2004-2006), and the 2-episode OVA Initial D Extra Stage (2000). No mention was made of the 50-minute Initial D Battle Stage movie from 2002, the 1-hour Battle Stage 2 movie from 2007, or the 50-minute Extra Stage 2 OVA from 2008.
Tokyopop had previously released the first two Initial D Stages here in North America and changed some of the characters names. Funimation's Initial D releases will feature a new English cast, will be uncut, and will retain the original music tracks.
Funimation will retain the Geneon/Pioneer English dubs of the 50-minute X OVA from 2001 and the 24-episode X TV series that aired in Japan from 2001-2002. Both the X OVA and X TV anime series were produced by Madhouse and directed by Yoshiaki Kawajiri, the famed director of Ninja Scroll, Vampire Hunter D, and two episodes of the Animatrix.